WNYT: Capital Region's Top Medical Officers Warn Coronavirus Fight Far From Over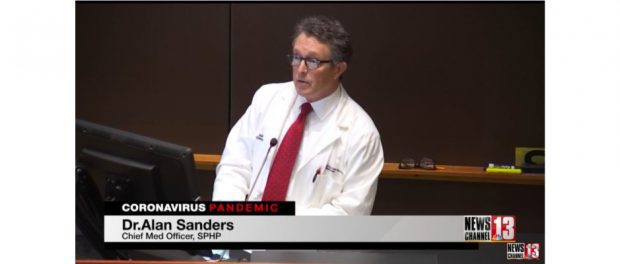 Alan Sanders, M.D., chief medical officer for St. Peter's Health Partners Acute Care, appeared in WNYT's report on the next likely wave of COVID-19 infections in the Capital Region.
Dr. Sanders and other local hospital leaders briefed the media and community on the state of the virus fight during a news conference held on Oct. 28, 2020. In addition to rising cases and hospitalizations, the leaders also discussed vaccine preparations; the need to stay vigilant during the upcoming holiday season; and the importance of getting vaccinated against influenza.
From the story:
As the medical officers gathered again Wednesday, they shared a progress report.

The highlights were treatment with drugs like Remdesivir, and convalescent plasma, given to more than 120 local patients and the use of steroids to help with lung function.

However, there are also warnings for the road ahead as the weather turns colder.

To keep things from blossoming, this group says we have to fight COVID fatigue, including being tired of being careful, and tired of not taking part in daily activities we took for granted before the pandemic.

When a coronavirus vaccine is finally approved, all the hospitals have applied to be vaccination sites. Until then, education and connections are the underpinnings of staying healthy.

However, vigilance was only part of the message. Get recommended screenings and treatment, which fell off during the height of the pandemic. To ignore that care is risky.
Click here to watch WNYT's report.