Times Union: The Care Mobile – Ten Years of Smiles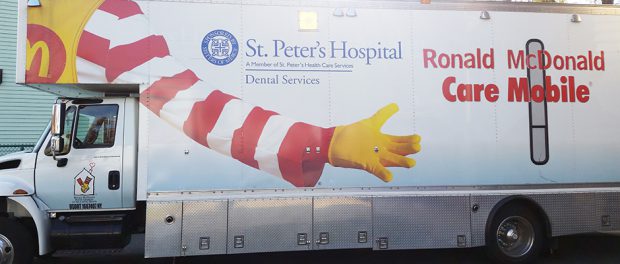 The Times Union published an article on December 2 about the Ronald McDonald Care Mobile, a mobile dental clinic for children in underserved communities in the Capital District. The clinic is a collaboration between St. Peter's Health Partners and The Ronald McDonald House.
From the article, which was posted online in The Pine Hills section of the paper's blog collection:
The Care Mobile first hit the road in 2006 after Sister Gail Waring, vice president of mission services at St. Peter's Health Care Services, applied for a grant for the mobile health clinic through the Ronald McDonald House Charities. "Sister Gail realized that a clinic could only do so much," said St. Peter's Practice Manager Roseanne Henley. "There was a real void that needed to be filled" with regard to dental care for children in some local communities, she said.

The program started with just five schools in the Albany City School District: North Albany Academy, Phillip Schuyler Academy, Sheridan Preparatory Academy, Thomas O'Brien Academy of Science and Technology, and Giffen Memorial Elementary School, said the Ronald McDonald House's Emery. By 2012, services had been expanded to Hackett Middle School and the Rensselaer City School District. This year, he said, the Care Mobile began visiting the Menands Union Free School District.
See the full story here.