Times Union: 'The Next Wave has Started.' Capital Region Braces as COVID-19 Numbers Grow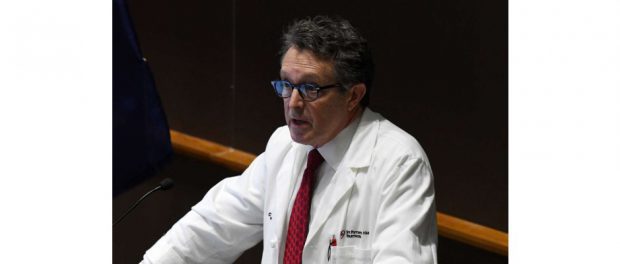 Steven Hanks, M.D., chief clinical officer for St. Peter's Health Partners, was interviewed by the Times Union for its article on the growing numbers of COVID-19 cases in the Capital Region. This follows a news conference held on Oct. 28 by regional hospitals during which leaders, including Alan Sanders, M.D., chief medical officer for SPHP Acute Care, discussed the latest research into the disease, vaccine preparations, and the need for the community's continued vigilance to help curb spread of the disease.
From the article:
"What's interesting is we're seeing a very, very different outcome for patients being hospitalized now than we did in the spring," Dr. Steven Hanks, chief clinical officer for St. Peter's Health Partners, told the Times Union. "The mortality rate seems to be much lower. The number of hospitalized patients who go to the ICU is down compared with spring. The number of patients needing to be ventilated is down compared with spring. And the number of patients who are dying with COVID-19 who are hospitalized is down compared with spring."

The reasons for this remain unclear, though officials have a few ideas. Doctors have learned when and in what combination to administer therapies to patients to produce the best outcomes, Hanks and Venditti said. There's also a theory circulating that mask use may be shielding people who are exposed to the virus to smaller viral doses than they would have been otherwise.

"That's all conjecture," Hanks said. "But these are all things we're giving consideration to, including possibly just changes in the virus as the virus mutates in the wild. So that's the good news part of the story. The bad news is the virus continues to spread."
Click here to read the full article.