Troy Record: Hundreds Take Part in 12th Annual 'Walk a Mile in Her Shoes' Event in Troy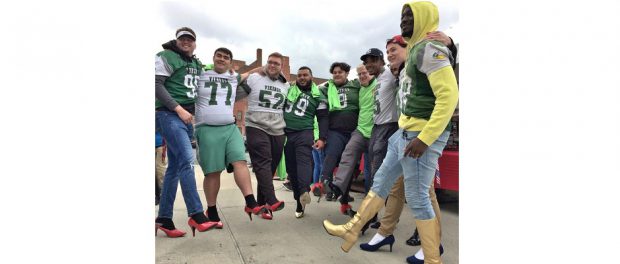 The Record published an article on the 12th annual "Walk a Mile in Her Shoes" event, held Saturday, April 27 in Troy's Riverfront Park. The walk is part of a nationwide effort to show community support for the fight against sexual violence.
About 300 people, including members of the Hudson Valley Community College football team, braved cold, damp, blustery conditions to participate in the event. They heard firsthand accounts of how deep and long-lasting the effects of sexual assault can be.
From the article:
April's story was the most emotional of the three. As she sat in a wheelchair and with the help of another, she spoke to survivors directly reminding them there are many people who can help, to be a fighter, to never give up, and to be a survivor and not a victim.

Ryan Melone, a therapist, and prevention educator with the Sexual Assault and Crime Victims Assistance Program with St. Peters said, speaking out as they did Saturday gives survivors a chance to tell their stories, to speak out and to be believed.

With their remarks still ringing in their ears, the group of walkers headed through the park, down River Street, and up Third Street. Upon their return to the park, the heels were removed quickly.

"These definitely hurt," said HVCC defensive back Daniel Slade. "It's something we as men don't realize; that it's something women have to do every day. It was not comfortable at all, my toes hurt, my heels hurt and the balls of my feet hurt. But it's good to be out here spreading awareness."
Click HERE to read the full article.