Troy Record: St. Peter's Health Partners Marks Milestone: 20,000 Robotic Surgeries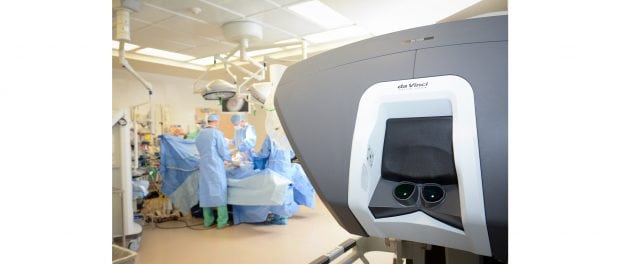 The Troy Record published an article on the 20,000th robotic surgery milestone at St. Peter's Health Partners.
From the story:
With this, SPHP joins a group of only 26 health systems worldwide to have achieved such a distinction using da Vinci computer-enhanced surgical systems.

The achievement underscores SPHP's leadership in minimally invasive robotic surgery in the Capital Region and reflects its dedication to improving the lives of patients through state-of-the-art technology.

"What this shows is that SPHP continues to be in the vanguard in bringing leading edge technologies to our patients," said James K. Reed, M.D., president and CEO of SPHP. "Through the use of robotics, we have been able to decrease the length of stay and reduce complications in many complex critical surgeries. This is medicine at its very best. It is highly personal and compassionate and allows us to care for our community in the best way possible."

St. Peter's Hospital was a pioneer in the field of minimally invasive surgery when it became the first hospital in the area to use a da Vinci computer-enhanced surgical system after acquiring one in 2004. Thanks to the generosity of philanthropists in the community, SPHP has since been able to acquire a total of six da Vinci robots and expand its minimally invasive surgery program at Samaritan Hospital.

This expanded access has allowed SPHP to bring the most advanced, minimally invasive techniques to patients and has established SPHP as one of the nation's leaders in robotic surgery. St. Peter's and Samaritan hospitals perform the greatest number of robotic procedures in the Capital Region with St. Peter's Hospital ranking in the top 1% of total robotic surgery volume across more than 2,400 hospitals in the United States.

"The robot has become an invaluable and essential tool for minimally invasive surgeons in terms of the different opportunities and the different procedures we can now explore," said Jason Heckman, M.D., medical director for minimally invasive surgery at St. Peter's Hospital.
Click here to read the full article.