WNYT NewsChannel 13: Treatment Options Often Lacking for Opioid Addicts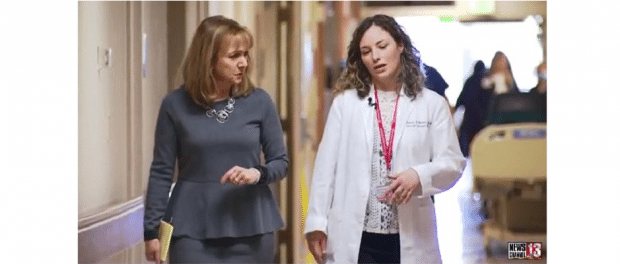 WNYT NewsChannel 13 aired a story featuring Dr. Melissa Weimer, Chief of Behavioral Health and Addiction Medicine at St. Peter's Hospital, as part of its ongoing series examining the opioid epidemic in the Capital Region.
Dr. Weimer discussed why so many people struggling with addiction do not have rapid access to treatment, and how St. Peter's Health Partners is trying to change that.
"We know that if they can't access those services right away they're waiting for maybe two weeks," said Weimer. "Studies have shown that those are the patients who are continuing their use and they are dying on these waiting lists."

SPARC has made changes to accommodate that population. It's now open 24/7. There's no minimum length of stay and insurance isn't a factor. In short, three of the big barriers to accessing treatment have been removed. But there are only 18 beds and on most days they're full.
To watch WNYT's story, click HERE.
St. Peter's Health Partners is proud to be a part of the "Prescription for Progress: United Against Opioid Addiction" coalition, which includes local leaders in health care, media, law enforcement, government, education, and business. The coalition was formed to examine the opioid crisis in our area – how we got here and what it will take to stop more people from dying.
For further details on addiction services at St. Peter's Health Partners, head to www.sphp.com/opioids.