WNYT: St. Peter's Workers Save Man's Life While Being Honored with Free Vacation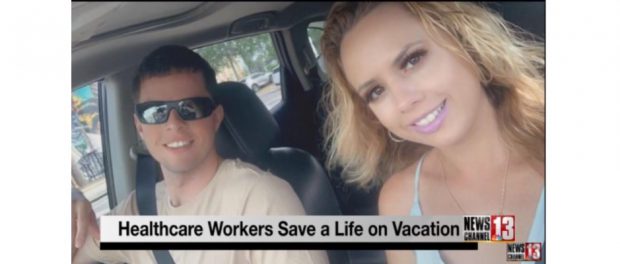 Two St. Peter's Hospital colleagues were featured on WNYT-NewsChannel 13 after they saved a man's life while on vacation.
From the story:
A  Rensselaer couple in the medical field got two round trip flights to Florida, thanks to JetBlue's program rewarding healthcare heroes. However, even on their vacation, they found themselves helping to save a man's life.

Travis Lemieur of Latham and Michelle Casey from Kings Park had just spent a couple of days in Florida after working through the pandemic. Casey is a nurse. Lemieur is a physician assistant. Both work at St. Peter's Hospital.

It's been a tough time for many healthcare workers. The couple got free roundtrip tickets after being nominated for JetBlue's program honoring healthcare heroes. They had no idea that minutes after they landed at JFK, they would face another medical emergency.

Right after walking off the flight, they saw a man down at baggage claim. He wasn't responding, and had no pulse. A combination of CPR and a defibrillator helped to save his life.