WRGB Channel 6: Santa Makes Christmas Morning Stop at St. Peter's Hospital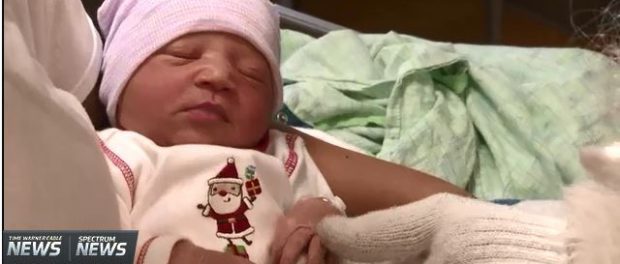 After a long night of making deliveries, Santa had one last stop at St. Peter's Hospital on Christmas Day before heading back to the North Pole. Old St. Nick visited happy moms and families – as well as their newest arrivals – in their hospital rooms at the St. Peter's Hospital Hearst Family Center.
Click here to view the WRGB Channel 6 news story on the special delivery, and click here for Time Warner Cable News' coverage.
St. Peter's Hospital, an affiliate of St. Peter's Health Partners, is the first hospital in the Capital Region to earn the international "Baby-Friendly" designation. It is one of only three hospitals in Upstate New York and among 387 hospitals and birth center across the United States to hold the Baby-Friendly designation. In 2015, approximately 2,605 babies were delivered at St. Peter's Hospital.