WRGB CBS6: Battles of Local Firefighters Putting the Spotlight on Sepsis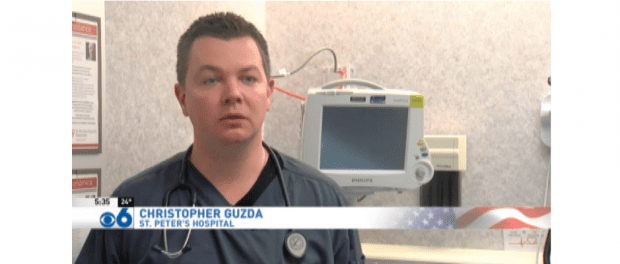 WRGB CBS6 interviewed Christopher Guzda, M.D., an emergency medicine physician at St. Peter's Hospital, for a story on sepsis. Dr. Guzda explained the causes and symptoms of sepsis, and the importance of treating it quickly.
From the report:
Guzda says if sepsis isn't treated quickly, it could be fatal.

"In the emergency room, we almost treat septic patients like they have a stroke or a heart attack," he said.

Guzda says people with sepsis usually end up in an emergency room right away, so doctors can look for where the cause is, and keep people from getting in septic shock.

"They could be confused or have altered mental status," Guzda said. "They could have tachycardia, which is extreme heart rate. That tells us the body is fighting extremely hard for life."
Click here to watch WRGB's story.