WRGB: New Medicare Rule Could Send $200 Million to Capital Region Hospitals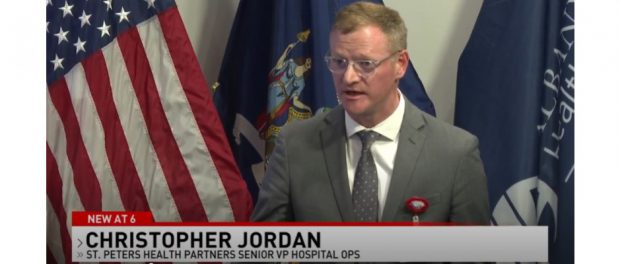 U.S. Senator Chuck Schumer (D-NY), traveled to the Capital Region on May 24 to discuss proposed changes to the Medicare Wage Index. If approved, the proposal would bring nearly $200 million to area hospitals.
Christopher Jordan, senior vice president of hospital operations at Sunnyview Rehabilitation Hospital, discussed the potential impacts on WRGB/CBS6 News.
From the report:
"Quite simply the way that hospitals have been paid by Medicare is broken," said St. Peters Health Partners Senior Vice President of Hospital Operations Christopher Jordan "the hospitals of the Capital Region and ultimately the communities that we serve suffer from this inequity."

Major Capital Region Healthcare providers including Albany Med Health System, Ellis Medicine, and St. Peters Health Partners joined by United States Senator Chuck Schumer are calling on the passing of the Medicare Wage Index proposal.

According to United States Senator Chuck Schumer, the Capital Region hospitals have been discriminated against for decades impacting not only your pocket but the kind of care you've been receiving as well.

The Medicare Wage Index has placed Capital Region hospitals below what the average hospital is reimbursed creating bigger financial burdens and limiting how much caretakers are paid.

The proposal would bring nearly 200 million dollars to all Capital Region hospitals permanently, and if it were to pass the Capital Region will see a 43 percent increase in Medicare wage payments, the second largest increase of payments across the nation.
Click here to watch WRGB's full report.