WTEN: Canadian Wildfires Bring Smoky Haze to Capital Region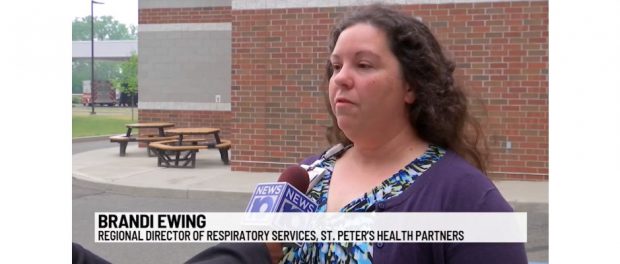 Brandi Ewing, regional director of respiratory services for St. Peter's Health Partners and St. Joseph's Health, was interviewed by WTEN/News10 for its story on the smoky skies caused by Canadian wildfires.
Ewing discussed how the hazy conditions can threaten lung and heart health.
From the story:
Brandi Ewing, Regional Director of Respiratory Services at St. Peter's Health Partners, said the best masks to wear in these conditions are K95 and N95. But extra precautions should also be taken for those with certain health conditions.

"The risk is patients or people with long-term health problems, such as asthma, COPD, heart and lung conditions like that," Ewing said. "For those patients, really do have to take some more precaution because it can cause heart and breathing difficulties."

Ewing also said to avoid outdoor activities since poor air quality can cause respiratory issues.
Click here to watch WTEN's report.