Becky's House Receives $1,000 Donation to Support Pancreatic Surgery Patients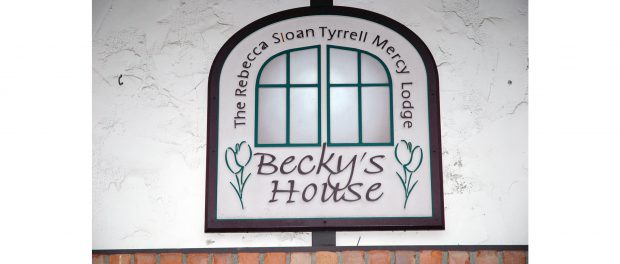 St. Peter's Health Partners (SPHP) has received a $1,000 donation to support pancreatic surgery patients who stay at Becky's House, a home-away-from-home for patients and their families who travel from a distance to be treated at St. Peter's Hospital. Becky's House is owned and operated by the hospital.
The donation was given by pharmaceutical manufacturer Allergan to help support and raise awareness for pancreatic cancer in the Capital Region.
Pancreatic cancer patients and their families are frequent guests at Becky's House, said Rebecca L. Keim, M.D., of St. Peter's Hepatobiliary and Pancreatic Surgery in Albany, a practice of St. Peter's Health Partners Medical Associates.. This is due to the long recovery time associated with the Whipple Procedure, or pancreaticoduodenectomy, the most commonly performed surgery to remove cancer of the pancreas.
The complex surgery, which lasts between 4 to 6 hours, involves removing the head of the pancreas, as well as parts of the small intestine and bile duct, the gallbladder, lymph nodes, and sometimes parts of the stomach. The surgeon then attaches the remaining bile duct, pancreas, and stomach to the small intestine, so that pancreatic digestive enzymes, bile, and stomach contents can still flow into the small intestine during digestion.
The extensive procedure usually involves a recovery time of 7 to 10 days in the hospital, Dr. Keim said. As St. Peter's Hospital is one of the few hospitals in the region to offer the Whipple Procedure, patients regularly travel from around New York state, Massachusetts, and Vermont to have the surgery. As a result, many of these patients and their families become guests at Becky's House, which is located only a short walk from St. Peter's Hospital.
"Often times, a patient's family cannot afford to stay at a hotel for a week or longer," Dr. Keim said. "I believe for many Whipple patients, they would truly not be able to see their families during recovery, if it were not for Becky's House."
By providing a welcoming and comfortable environment to patients and families, SPHP and St. Peter's Hospital view Becky's House as a way to enhance the unique impact that loving families can have in improving patient outcomes. Becky's House is supported by generous contributions and donations from guests and the community.
"Becky's House is a wonderful resource for patients and family members who travel long distances to receive the expert care of our talented surgeons, nurses, and clinical staff of St. Peter's Hospital," said Peter D. Semenza, vice president for philanthropy at SPHP. "We thank Allergan for their charitable gift to support Becky's House – which serves as a 'home-away-from-home' for so many patients."
The Rebecca Sloan Tyrrell Mercy Lodge, also known as Becky's House, opened on June 5, 1998. The house is named in honor of Rebecca Sloan Tyrrell, who passed away on Feb. 4, 1994, after a courageous and inspirational struggle against cancer. She was the first wife of Thomas Tyrrell, who serves as chair of the St. Peter's Hospital Foundation Board of Directors.
During her illness, Mrs. Sloan Tyrrell vowed to help those affected with the same disease. SPHP and St. Peter's Hospital offer Becky's House in memory of Mrs. Sloan Tyrrell, to recognize her inspiring kindness and devotion to those who are suffering and find themselves in stressful circumstances.
Becky's House is available on a first-come, first-served basis. The house has six bedrooms and shared bathroom facilities. Additionally, guests are offered the use of kitchen, laundry facilities, and local telephone services. Guests also are welcome to use Becky's House during the day as quiet setting away from the hospital.
Click here to learn more about Becky's House.