Congratulations to the 2019 Class of "13 Kids Who Care"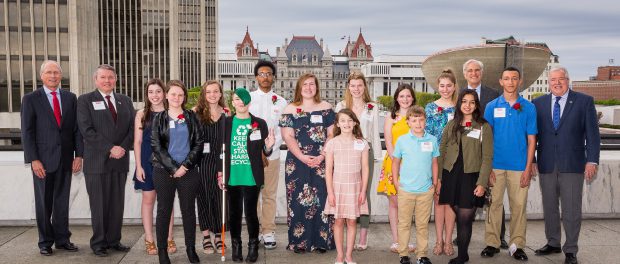 Officials from WNYT-NewsChannel 13, St. Peter's Health Partners, and the Times Union gathered on May 9 at the New York State Museum to recognize "13 Kids Who Care" – children and teens from throughout the Capital Region whose volunteer efforts make the region a better place to live.
The ceremony was the culmination of a very special series on WNYT to honor and reward young persons who go out of their way to volunteer and help their community. Their involvement "touches the lives" of people in the Capital Region and improves the quality of life in its communities.
The 13 honorees were chosen from nearly 50 nominations submitted by Capital Region residents in January and February. Particular emphasis was given to selecting teens whose efforts included helping the disadvantaged, disabled, or at-risk youth.
WNYT News Chief Meteorologist/Reporter Bob Kovachick highlighted one of the 13 young people every Monday since March on NewsChannel 13's "Live at Six" news broadcast.
Joining Kovachick, family members, local dignitaries, and Capital Region school administrators and teachers in honoring the "13 Kids" were WNYT General Manager Stephen Baboulis, SPHP President and Chief Executive Officer James K. Reed, M.D., and Times Union Editor Rex Smith, who also served as the event's keynote speaker.
"We are recognizing these students this evening for having the courage to take action, thereby inspiring and educating all of us." said Reed. "They have the ability to envision a better tomorrow and are working to make it happen. We are grateful for their compassion and their service."
In addition to being honored at the ceremony, each student received a $500 contribution from the sponsoring organizations to be given in the youth's name directly to the local charitable organization of his/her choice.
The following are the Capital Region young people who were chosen as "13 Kids Who Care" for 2019:
Jenna Almon
Columbia High School
Elizabeth Fram
Homeschooled
Joseph Gardner
Fort Edward Elementary School
Isaiah Gershon
Mohonasen High School
Katie Hemsley
Amsterdam High School
Trinity Hogben
Saratoga Springs High School
Abeer Jafri
Albany Academy for Girls
Jenah Janz
Drury High School
Gianna Mamone
Albany Academy for Girls
Faith Murray
Averill Park High School
Kadi Palmer
Algonquin Middle School
Morgan Rounds
Shenendehowa High School
Devin Thomas
Green Tech High Charter School
To view Kovachick's segments on each of this year's 13 Kids Who Care, please visit: http://wnyt.com/13kids
To view a gallery of photos from the event, visit St. Peter's Health Partners' Facebook page by clicking HERE.