Dr. James K. Reed Becomes First President and CEO of St. Peter's Health Partners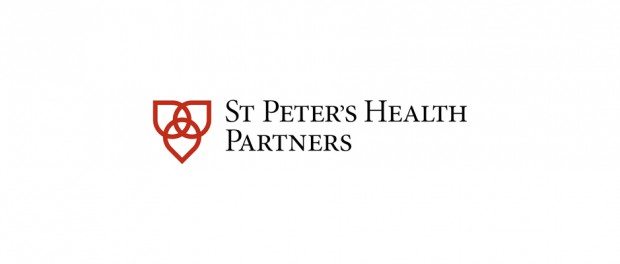 James K. Reed, MD, MBA, today became the first individual to hold the position of President and Chief Executive Officer of St. Peter's Health Partners – the region's largest health system.
Dr. Reed assumes this newly consolidated position on the first anniversary of the creation of St. Peter's Health Partners (SPHP), formed on October 1, 2011 by the merger of St. Peter's Health Care Services, Northeast Health and Seton Health.
The organization is the region's largest and most comprehensive not-for-profit network of high-quality, advanced medical care, primary care, rehabilitation and senior services. SPHP includes Albany Memorial Hospital and St. Peter's Hospital in Albany; Samaritan Hospital and St. Mary's Hospital in Troy; Sunnyview Rehabilitation Hospital in Schenectady; as well as The Eddy system of continuing care, and The Community Hospice.
The region's largest private-sector employer, St. Peter's Health Partners employs more than 11,700 individuals at more than 125 locations across seven counties. The system has an annual budget of nearly $1.1 billion.
Dr. Reed's appointment consolidates the two top positions at St. Peter's Health Partners – Chief Executive Officer and President – for the first time in one individual. His appointment follows the retirement last week of Steven P. Boyle, chief executive officer of St. Peter's Health Partners, and president, CEO of St. Peter's Hospital.
Boyle's role at St. Peter's Hospital was filled early last month by Ann Errichetti, MD, MBA, of Chicago. Dr. Errichetti was named Chief Executive Officer of St. Peter's Hospital, and Vice President, Acute Care-Albany, SPHP.
"I am honored to serve as the President and CEO of this comprehensive health system that is so widely known for its high-quality facilities, programs, services, and compassionate care," said Dr. Reed.
"One year ago, together we took an historic step forward to pioneer the development of healthcare reform at the local level. I am tremendously proud to have had a leadership role in that process and in helping to integrate three strong health systems to create St. Peter's Health Partners," Dr. Reed continued.
"Today I am excited to begin this new journey, building on the strengths of all of our award-winning programs, and working with our exceptional and skilled staff to provide the highest quality, efficient and accessible health care to the residents of the Capital Region," Dr. Reed said.
Sydney Tucker Jones III, co-chair of the St. Peter's Health Partners Board of Trustees and formerly chair of the St. Peter's Health Care Services and St. Peter's Hospital boards for nearly two decades, said, "Dr. Reed has a diverse background as a private-sector business leader, as a practicing physician, and as the long-time chief executive of a successful health system. This depth of experience gives him unique qualifications for the position of President and CEO of St. Peter's Health Partners. Jim views the health care environment from the outlook of both an institutional leader and a physician, providing him unique insight into the patient care, science, technology and economic aspects of this rapidly changing industry."
"This rare combination of knowledge and skills in a single individual affords Jim a profound perspective to lead the region's largest healthcare system into a new era of healthcare delivery," Jones said.
Robert W. Johnson III, co-chair of the St. Peter's Health Partners Board of Trustees and former chair of the Northeast Health Board of Directors, said, "Dr. James Reed has proven to be an extraordinary leader in all the years I have served on the Northeast Health Board. He has extensive experience and a remarkable vision of how to grow and respond to the changing healthcare and human services needs of our communities."
"Dr. Reed is fiercely dedicated to the mission of care and ensuring that the partnering organizations provide the highest quality care to the residents of the Capital Region," Johnson said.
"We are in a critical time for health care with significant developments at the federal, state and local levels," said Dr. Reed. "We face unprecedented challenges in the accessibility and economics of health care, as well as major issues related to public health, the uninsured, and aging populations. We face this environment, however, with the knowledge that we are better positioned, now more than ever, to effect changes."
"St. Peter's Health Partners stands strongly committed to a mission of caring, and continually finding ways to better meet the needs of our communities. We will forge new partnerships with public and private payors, physicians and other providers to redesign and reinvent the delivery of services as we know it. It will be our never-ending quest to further improve quality and access to state-of-the-art health care for all those who need it," Dr. Reed said.
Highlights of Dr. Reed's Career at Northeast Health
During his career at Northeast Health, Dr. James Reed is credited with leading the team that implemented numerous innovative programs and quality initiatives. Here are some of the highlights:
The affiliation of Sunnyview Rehabilitation Hospital with the Northeast Health network in 2007 and the creation of the Neuro-Rehab Institute in 2009 – an exclusive center of excellence dedicated to individuals with neurological disorders including traumatic brain injury, spinal cord injury and stroke.
The Eddy opening New York state's first Green House® modeled nursing homes in Cohoes, which feature small ranch-style houses over the traditional institutional facilities. In this model, residents, called "elders," are respected and encouraged to participate in decisions about their own health and well-being.
Northeast Health's commitment to quality improvement with the system-wide adoption of the Lean management philosophy and culture through leadership development (based on the Toyota Production System).
The opening of Hawthorne Ridge in East Greenbush, The Eddy's fifth retirement community, which features independent and assisted living apartments.
Samaritan Hospital and Seton Health/St. Mary's Hospital teamed up in 2006 to bring cardiac catheterization services to residents in the Rensselaer County area, and angioplasty services in 2012.
A Background in Business and in Medicine
Dr. Reed received his undergraduate degree in economics from Amherst College, then attended the Wharton School of the University of Pennsylvania where he received his MBA. He joined the International Paper Company, where he held a variety of finance positions and became the company's Director of Corporate Finance. He moved to the Union Pacific Corporation as Manager of Strategic Planning and became Director of Acquisitions and Divestitures.
He then attended Cornell University Medical College, where he received numerous clinical prizes and became president of the school's academic honor society. He completed residency training in Family Practice, receiving the Mead Johnson Award as one of the nation's twenty best residents, and spent nine years as a partner in a private group family practice in Albany, New York. In 1999, he was named Chief Medical Officer of Northeast Health. In 2001, he added the responsibilities of Chief Operating Officer, and in 2005, he became President and CEO.
Dr. Reed is a board officer of the Medical Liability Mutual Insurance Company (MLMIC), board member of HealthNow New York Inc., Albany-Colonie Regional Chamber, The Fort Orange Club and Albany Symphony Orchestra. Previously, he served as a member of the New York State Hospital Review and Planning Council and was a governor's appointee to the Regional Advisory Committee of the Commission on Health Care Facilities in the 21st Century (the "Berger Closing Commission"). Dr. Reed was named Executive of the Year by The Business Review in 2008.
Dr. Reed lives in Latham, NY, with his wife, Risa. They have three adult children, Jason, Lindsay and Jonathan.