WRGB: As Record Number of Cases Hit, County and Hospitals Work to Keep Beds Available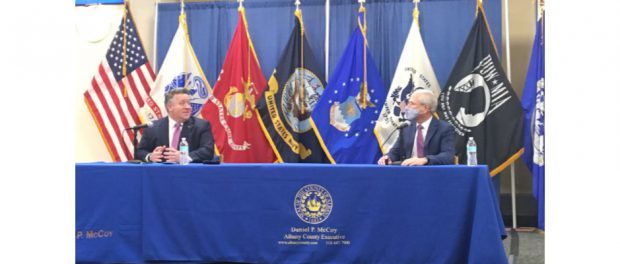 WRGB/CBS6 Albany aired a story on the announcement from Albany County Executive Dan McCoy and President and CEO of St. Peter's Health Partners James K. Reed, M.D., concerning the opening of a new COVID-19 wing at the county-run Shaker Place Nursing Home.
From the report:
County executive McCoy announced the newly-built section at the Shaker Place Nursing Home is complete and they will be using that 160 bed section.

He says COVID patients in the hospital who are no longer contagious, but can't go home yet, will be moved to this new section.

McCoy reassures everyone that it is completely separated from the other side of shaker place. So there will be no cross contamination.

The hospitals don't plan to use this facility right away.

"Although we are not going to have to put patients in there right away, or tomorrow, we don't know when, it's very important that that arrow be added to our quiver so that as we face is very unpredictable surge time we know not only does each facility within the region have its own surge plan for increasing capacity and staff capacity but we now have this backstop. " said Dr. James Reed, President & CEO of St. Peter's Health Partners
Click here to read WRGB's report.