Marjorie Doyle Rockwell Center Celebrates 20th Anniversary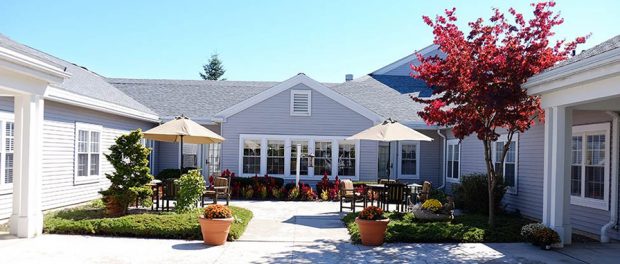 St. Peter's Health Partners held an event on Thursday, Oct. 5, to celebrate the 20th anniversary of Eddy Memory Care at Marjorie Doyle Rockwell Center in Cohoes.
SPHP leadership and staff joined current and former residents of Marjorie Doyle Rockwell Center, along with family members and many others, to commemorate the facility's 20 years.
"We are proud to celebrate our 20th anniversary, and so thankful for the opportunity to serve our residents every day with compassion, respect, and a dedication to every individual's sacredness and dignity," said Trudi Cholewinski, MSHSA, executive director of Marjorie Doyle Rockwell Center. "Thank you to our staff, nurses, physicians, and everyone else whose hard work, commitment, and expertise led to today's milestone."
Eddy Memory Care at Marjorie Doyle Rockwell Center provides comfortable, secure living accommodations for individuals with early- to mid-stage memory impairment — those with difficulties that require watchfulness and a supportive environment, but who do not need nursing home care.
With a focus on safety and independence, the 52-bed memory care community was thoughtfully designed and offers services tailored for individuals with memory loss, Alzheimer's disease, and other related dementias. The secured residence features interior courtyards and outdoor garden pathways, some of which are continuous loops to help minimize frustration and confusion for residents.
Cholewinski said Marjorie Doyle Rockwell Center goes beyond traditional assisted living by providing a team of experienced caregivers specially trained in dementia care. She said the facility's nationally recognized model of care aims to preserve self-esteem and self-confidence by highlighting individual talents and achievements.
"Research shows individuals living with memory loss can continue to utilize their interests and talents," Cholewinski said. "To emphasize this, we specifically tailor activities for each resident, to help them continue their lifelong traditions. Every day, we see how this continuity provides a greater sense of fulfillment, purpose, and pride for our resident, and allows them to reconnect with family, friends, interests, and memories."
Since dementia affects both the resident and their family, Marjorie Doyle Rockwell Center serves as a resource for the community, providing educational programs, on-site support groups and family forums, professional conferences and workshops, and a lending library for caregivers and professionals.
The center also offers short-term respite care.
Click here for more information about Eddy Memory Care at Marjorie Doyle Rockwell Center.