LiveSmart: Savor the Flavors of Fall!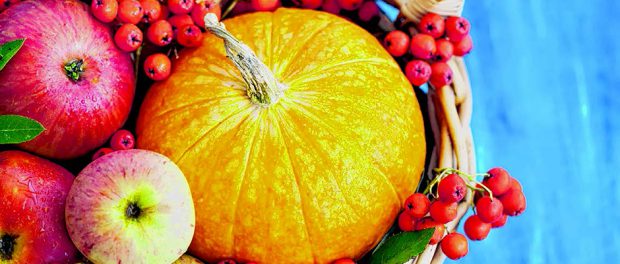 [This piece was written by Jaclyn Brady, MS, RD, CDN, from Clinical Nutrition at St. Peter's Health Partners.]
Fall is here, and with it brings everyone's favorite flavors. From apples to pumpkins to butternut squash, the amount of healthy recipes crafted from autumn produce is endless.
Apples are a staple in many homes during the fall season. Not only are apples delicious, they are packed with nutrients including vitamin C and fiber found in the skin. Apples are a great, quick snack on their own, or made even sweeter with a sprinkle of cinnamon or dipped in peanut butter. They can be used in a number of recipes such as the familiar apple pie for dessert, or added to a salad for lunch.
When most people think of fall they think of pumpkin. Pumpkin is a winter squash full of vitamin A, fiber, and potassium. It is a versatile food that can be added to a smoothie or oatmeal for breakfast, cubed or blended into soup, or used as a snack by roasting the seeds. Pumpkin seeds are a good source of zinc, which helps the immune system work properly.
Try these recipes from Eatright.org and enjoy a flavorful fall!
Baked Apples with Cinnamon Oat Topping

Ingredients

2 medium sweet red apples (such as Gala or Braeburn)

3 tablespoons finely chopped pecans (or substitute walnuts)

2 tablespoons uncooked quick-cooking oats

2 tablespoons dark brown sugar (packed)

1 tablespoon chopped dried cranberries

1 tablespoon cold butter, finely chopped

¼ teaspoon ground cinnamon

⅛ teaspoon salt

½ cup 100-percent apple juice

Directions

Preheat oven to 350°F.

Cut each apple in half horizontally. Use a melon baller or spoon to remove the core from each half, creating a rounded hole.

Combine nuts, oats, brown sugar, cranberries, butter, cinnamon and salt. Use your fingers or a fork to mix until mixture resembles coarse meal. Fill each apple half with about 2 tablespoons of oat mixture.

Place apples in an 8-inch baking dish; pour apple juice around apples in dish. Cover dish with aluminum foil.

Bake 30 minutes. Remove foil, and bake an additional 10 to 15 minutes or until apples are tender and topping is golden brown. Baking time will vary depending on the variety, size and ripeness of the apples. Apples are finished when easily pierced with a toothpick.

Pumpkin Cheesecake Smoothie

Ingredients

1 cup canned pumpkin

1 cup low-fat vanilla yogurt

1 cup fat-free milk

½ teaspoon ground cinnamon

¼ teaspoon vanilla extract

2 teaspoons sugar sprinkle of nutmeg

Directions

Combine all the ingredients except the nutmeg in a blender or food processor.

Blend until smooth.

Pour into a glass and garnish with a sprinkle of nutmeg.