St. Peter's Health Partners "Tops Off" Five-Story Heinrich Medicus Pavilion in Troy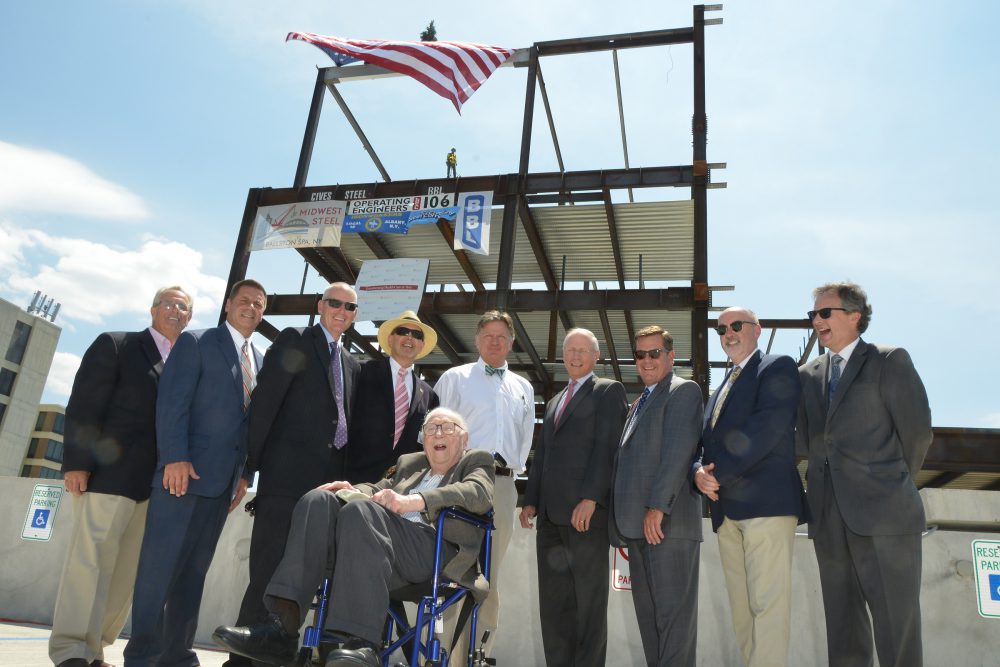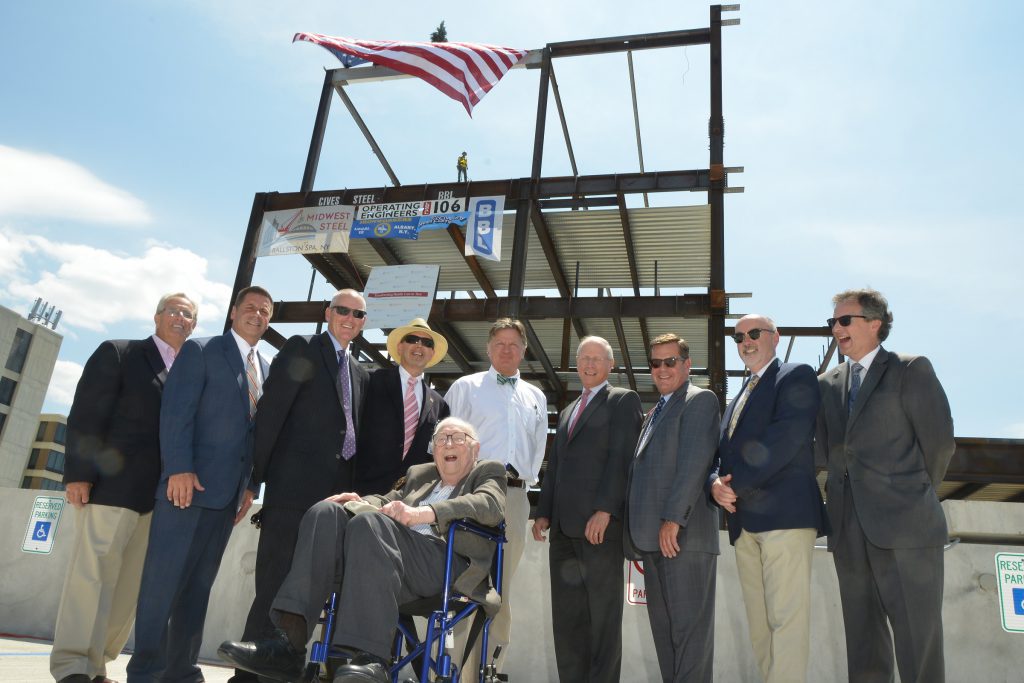 St. Peter's Health Partners (SPHP) today celebrated a major milestone in its $99 million Troy Master Facilities Plan (MFP) with a "topping off" ceremony for its new, five-story patient pavilion being constructed on the Samaritan Hospital campus.
The placement of the last beam – a 30-foot steel plank weighing nearly 2,300 pounds – was lowered into place this afternoon atop the framework of the future Heinrich Medicus Pavilion.
Today's topping off represents a major milestone for SPHP's Troy MFP which was first announced in November 2012. The pavilion is the centerpiece of the strategic, multi-phased plan designed to transform health care in Troy, Rensselaer County, and the surrounding communities.
"Our Troy MFP represents a significant capital investment, and symbolizes our commitment to the citizens and communities we serve," said James K. Reed, M.D., president and chief executive officer of SPHP. "Every facet of this project – from the new patient pavilion and all it entails, to the creation of construction jobs, to strengthening our relationship with our neighbors – is helping us fulfill our promise to transform health care in Troy. Thank you to everyone who made today's milestone possible. We look forward to dedicating the pavilion upon its completion."
"This is truly a defining moment in the history of health care in the Troy and Rensselaer County communities," said Norman Dascher Jr., chief executive officer of Samaritan and St. Mary's hospitals, and vice president of Acute Care Troy for SPHP. "We have made incredible strides since we first announced our bold vision. Our topping off today represents the culmination of the hard work and dedication of so many people. We thank them for their efforts, for this wonderful new pavilion, and for helping us as we rebuild health care in Troy."
The structure of the new pavilion, which took an estimated 320,000 person-hours to complete, features a total of 1,221 tons of steel and approximately 5,600 cubic yards of concrete.
To mark the placement of the final piece of steel, an American flag and pine tree were positioned on the beam. Placing an American flag on the last piece of steel of a new structure has been a tradition since the late 19th century.
The flag hoisting is a symbol of the effort given by those involved with the building's construction. Following a tradition that originated in Germany, hoisting an evergreen is symbolic of breathing new life into a building.
Upon its completion in 2017, the new pavilion will be named the Heinrich Medicus Pavilion in honor of the 96-year-old Troy resident and former Rensselaer Polytechnic Institute professor who pledged $10 million to the project – the largest individual gift ever bestowed upon a health care institution in the history of Troy and Rensselaer County.
The new pavilion will feature an expanded emergency department with nearly double the current patient capacity, intensive care units with large private rooms, improved progressive care units, and medical and surgical units designed to improve staff efficiency, and private rooms that provide staff unobstructed observation from nursing stations and corridors.
The pavilion was designed by architects FreemanWhite, and is being built by BBL Construction Services.
SPHP officials opened the first major component of the Troy MFP – the new St. Mary's Cancer Treatment Center – in June 2015. Two months later, the ribbon was cut on its new $10 million, 570-car parking garage on the Samaritan Hospital campus. Then in September, SPHP celebrated the opening of the Samaritan Hospital School of Nursing on the St. Mary's campus. The targeted completion date for the entire Troy MFP project is 2017.