Price Chopper and MDA Donate $50,000 to Support St. Peter's ALS Regional Center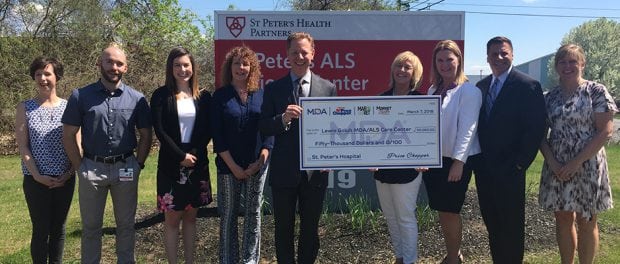 Jerry Golub, president and CEO of Price Chopper/Market 32/Market Bistro supermarkets, was on hand recently at the Lewis Golub MDA/ALS Clinic alongside representatives from the Muscular Dystrophy Association (MDA) to present a check for $50,000 to the St. Peter's ALS Regional Center from Price Chopper/Market 32 and MDA.
The Golub Corporation, which operates supermarkets under the Price Chopper, Market 32 and Market Bistro banners, has a long history with St. Peter's ALS Regional Center. In June 2009, the clinic in the center was dedicated to Lewis Golub, former chairman of the Golub Corporation and Price Chopper, who was battling ALS at the time. He succumbed to the disease four months later.
"This generous gift from The Golub Corporation and the Muscular Dystrophy Association will provide even more services and access to technology, as well as bring immeasurable comfort and relief to patients of the center," said Karen Spinelli, director of St. Peter's ALS Regional Center. "The ALS Center, thanks to contributions from individuals and organizations like the Golub Corporation and MDA, is able to offer most of its services at no cost to patients and their families."
St. Peter's ALS Regional Center is the region's only medical and counseling service devoted exclusively to the care of patients with amyotrophic lateral sclerosis (ALS), a fatal, degenerative neuromuscular condition commonly known as "Lou Gehrig's Disease."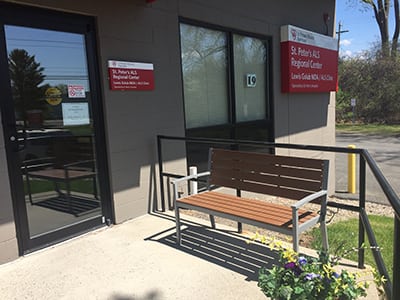 Located at 19 Warehouse Row in Albany, the ALS Regional Center offers medical and emotional support, rehabilitation therapy, consultation and education to ALS patients. It also provides home visits, as well as guidance and support via telephone, to patients who are too sick or disabled to visit the center.
In addition to the financial support St. Peter's ALS Regional Center relies upon from corporate donations, the funding raised through individual donations and at numerous community walks, 5K races, and golf tournaments is critical to provide services to individuals and their families.
St. Peter's Hospital Foundation organizes numerous fundraising events for the ALS Regional center with the assistance of a cadre of inspired and inspiring long-time volunteers. One such event is the ALS Memorial Golf Tournament, which is celebrating its 28th year in 2018. The annual golf event, set for Wednesday, June 27, at the Van Patten Golf Club in Clifton Park, is organized by the families of the late John C. Daly and the late James W. Michaels, Albany-area businessmen who died from ALS.
For a complete list of ALS fundraising/awareness events in 2018, visit http://www.sphcs.org/Fundraisers
To view a video of the check presentation, click HERE.