Samaritan Hospital Honored for Excellence in Stroke and Heart Attack Care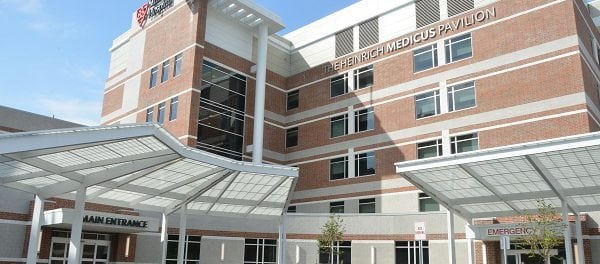 Samaritan Hospital, an affiliate of St. Peter's Health Partners, has received the American Heart Association/American Stroke Association's Get With The Guidelines Target: Stroke Honor Roll Elite Gold Plus Quality Achievement Award. The award recognizes the hospital's commitment to ensuring stroke patients receive the most appropriate treatment according to nationally recognized, research-based guidelines based on the latest scientific evidence.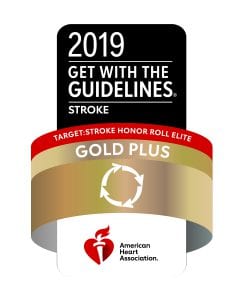 Samaritan Hospital earned Gold Plus status by meeting specific quality achievement measures for the diagnosis and treatment of stroke patients at a set level for a designated period. These measures include evaluation of the proper use of medications and other stroke treatments aligned with the most up-to-date, evidence-based guidelines with the goal of speeding recovery and reducing death and disability for stroke patients.
"In 2018, Samaritan Hospital received the association's Silver Plus Achievement Award for stroke care," said Michael Finegan, president of acute care for St. Peter's Health Partners. "For this year, to have achieved Gold Plus status, really is a testament to the dedication of our physicians, nurses, and ancillary support staff, who are all highly-skilled and work tirelessly to ensure the best outcomes for our patients."
Samaritan Hospital treated 304 stroke patients in 2018. According to the American Heart Association/American Stroke Association, stroke is the No. 5 cause of death and a leading cause of adult disability in the United States. On average, someone in the U.S. suffers a stroke every 40 seconds and nearly 795,000 people suffer a new or recurrent stroke each year.
Samaritan Hospital additionally received the association's Target: Stroke Honor Roll Elite award. To qualify for this recognition, hospitals must meet quality measures developed to reduce the time between the patient's arrival at the hospital and treatment with the clot-buster tissue plasminogen activator, or tPA, the only drug approved by the U.S. Food and Drug Administration to treat ischemic stroke.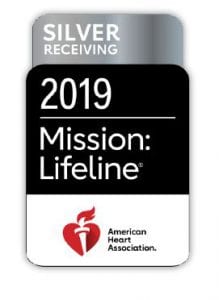 The association also honored Samaritan for its excellence in cardiac care, presenting it with its Mission: Lifeline Silver Plus Receiving Award. Samaritan earned the by meeting specific criteria and standards of performance for quick and appropriate treatment of heart attack patients. This involves performing emergency procedures to re-establish blood flow to blocked arteries in heart attack patients in order to prevent death.
The American Heart Association/American Stroke Association developed Get With The Guidelines with the goal of saving lives and hastening recovery. Since its inception in 2001, the program has touched the lives of more than 6 million patients.
Samaritan Hospital is proud to be a designated primary stroke center by the New York State Department of Health. The hospital's specialized Stroke Alert program has been developed to ensure that stroke patients coming to our emergency department receive prompt coordinated stroke care and treatment during the acute, inpatient and recovery phases.
Working in partnership with local ambulance personnel, a specialized stroke team is placed on alert at Samaritan Hospital's emergency department and is ready to assess a patient within 15 minutes of their arrival. The hospital's post-acute stroke team includes a physical therapist, speech therapist, occupational therapist, clinical resource managers and physicians.
For more information on stroke and heart failure care at St. Peter's Health Partners, visit: www.sphp.com/cardiac-vascular. For additional information on Get With The Guidelines, visit: www.heart.org/quality.