Seven SPHP Nurses Honored for Nursing Excellence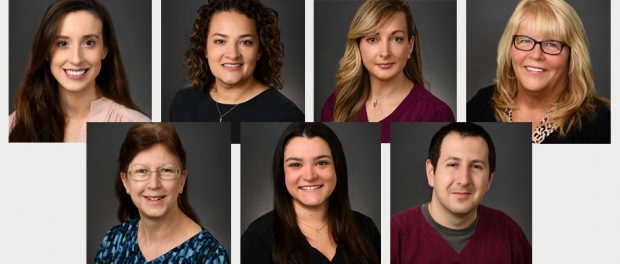 Seven St. Peter's Health Partners (SPHP) nurses have been honored for nursing excellence at the seventh annual Times Union Salute to Nurses.
Presented by SPHP as part of National Nurses Week (May 6-12), Times Union Salute to Nurses celebrates the profession of nursing and the outstanding women and men who represent nursing excellence in the Capital Region. A ceremony was held virtually on Friday, May 7, to recognize the awardees.

Three SPHP nurses were named among the "2021 Nurses of the Year," an honor reserved for just 10 Capital Region nurses:
Brianna Bissell, RN | Nurse Supervisor, St. Peter's Hospital, Cardiology
Jenna Horton, WHNP-BC | Capital Region Urology, St. Peter's Health Partners Medical Associates
Amanda Strock, RN | Samaritan Hospital, Emergency Department
Additionally, four SPHP nurses were honored as 2021 Nurse of the Year Finalists, a distinction given to only 15 nurses:
Terri Stratton, RN, AAS | Eddy Visiting Nurse & Rehab Association, Home Health
Jean Bradt, MS, BSN, RN | Samaritan Hospital – Albany Memorial Campus, COVID-19 Infusion Room
Maria Cranker, BSN, RN | Samaritan Hospital, Medical/Surgical
Nathanael Compton, RN, CRRN | Sunnyview Rehabilitation Hospital, 3E
"Nurse of the Year" recipients and finalists were selected from more than 600 nominations submitted to the Times Union. Nurses were nominated by their peers, colleagues, supervisors, patients, and the families of patients.
"It has now been more than a year since COVID-19 arrived in the Capital Region and, while much has changed over the past 14 months, the unrelenting bravery and endless talent of our community's health care providers, particularly our nurses, has remained steadfast," said James K. Reed, MD, President and CEO of St. Peter's Health Partners. "While the arrival of vaccines has provided a sense of hope that this pandemic will soon be behind us, the exceptional care and gentle human touch extended by nurses throughout the Capital Region during this difficult time has brought relief and healing to those in need. It is with great pride that we sponsor this year's Salute to Nurses, in partnership with the Times Union. We salute each of these nurses, who have given so much to the profession, their patients, and to our community."
Times Union Salute to Nurses honors nurses for their extraordinarily selfless contributions, impact on quality of life for their patients and their passion for the nursing profession.
You can watch the virtual event celebrating this year's awardees, which included a keynote address from Christopher Jordan, MHA, RN, NEA-BC, CPHQ, SPHP's Chief Nursing Officer for Acute Care, Vice President Patient Care Services, by clicking on the video below.