SPHP Distributes COVID-19 Care Kits for the Homeless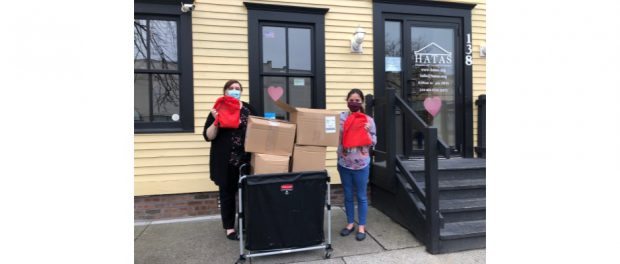 In underpasses and ravines, abandoned buildings and dark alleys, forgotten members of our community are struggling to survive. Many have been forced out of their homes due to financial situations exacerbated by COVID-19. Others have been there for years. All are at high risk of severe illness from the virus, and a large number don't have access to information about available vaccines or means to protect themselves from getting sick.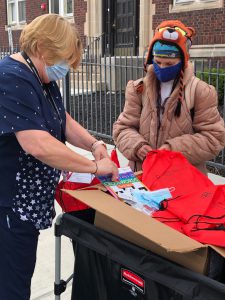 That's why St. Peter's Health Partners (SPHP) Community Health & Well-Being has partnered with Interfaith Partnership for the Homeless in Albany, Joseph's House Shelter in Troy, the Joseph Street Outreach Van, and the Homeless and Travelers Aid Society, to distribute COVID care kits for the homeless populations in Albany and Rensselaer counties.
The kits, provided by SPHP Community Health & Well-Being, include:
13″ x 17″ bag
.5 oz hand sanitizer
Hand sanitizer wipe packet
FreshScent body wash packet
Disposable face mask
Crossword puzzle book (measures 7" x 9") – for isolation
Click pen – for isolation
The kits also contain a Vaccination Information Card that includes the following facts about the COVID-19 vaccine:
SAFE: The vaccine will not give you COVID-19.
EFFECTIVE: All approved vaccines have proven to be very safe and highly protective against severe disease.
FREE: The vaccine will come at no cost to you.
"We are so grateful to our community partners for collaborating on this project," said Angel Surdin, manager of community engagement. "Our partners are the trusted source – the boots on the ground folks – that provide vulnerable and hard-to-reach community members with important information about the COVID-19 vaccine, as well as tangible resources to protect themselves against COVID-19."
Kits were also distributed throughout many of SPHP's internal departments, including all three acute care Emergency Departments.
"At SPHP, we are committed to ensuring the health and well-being of our community, especially the most vulnerable." said Kathy DeRosa, vice president of Mission Services. "By providing these kits to those in need who may be living on the streets or seeking care in our emergency departments, we are able to reach a population who might not have access to the tools they need to live a safe and healthy life."
The goal of SPHP Community Health and Well-Being is to optimize wellness and equity and address the social influencers of health (SIOH) which have a major impact of people's health, well-being, and quality of life including safe housing, education, and access to nutritious food.
"Improving equity requires significant investment by our health ministry and our community partners," added Melissa Zapotocki, director of SPHP Community Health & Well-Being. "It is our honor to provide these homeless COVID care kits to our community members in need. Through funding this project, we ensure we are living our Core Values, especially Reverence and Commitment to those who are Poor and Vulnerable."