SPHP Welcomes 3T MRI Technology to Medical Imaging in East Greenbush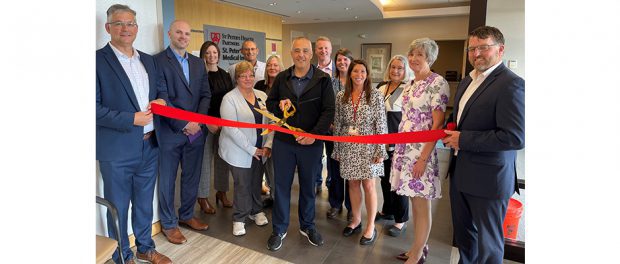 Earlier today, the staff of St. Peter's Medical Imaging, 279 Troy Road (Walmart Plaza on Route 4) in East Greenbush, and representatives from GE Healthcare celebrated with a ribbon cutting to welcome the addition of 3T MRI at the location.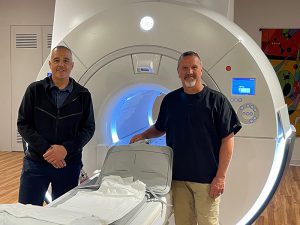 St. Peter's is pleased to offer greater patient comfort and increased access to this advanced technology. This 3T MRI technology is the SIGNA™ Pioneer from GE Healthcare, featuring a 3 Tesla magnet which has twice the power of today's typical MRI technology. St. Peter's Hospital in Albany also has 3T MRI.
"Having this advanced technology available will truly make it a better experience for our patients," said Bernie Godfrey, MHA CRA BSRT (R, CT, MR), Regional Director of Medical Imaging, St. Joseph's Health and St. Peter's Health Partners.
What Is An MRI?
An MRI system includes a scanner shaped like a donut and a motorized table that slides in and out of the scanner. MRI uses strong magnetic fields and radio waves to produce cross-sectional images of organs and internal structures in the body. Tesla measures the strength of the magnet.
Features of the 3T MRI
Wide bore technology, meaning it has a wider and shorter opening. This added space reduces the sense of confinement/claustrophobia.
Exam time is reduced. Faster scans eliminate the need for long breath holds during each imaging sequence.
3T MRI can scan multiple organs using whole-body imaging.
Patented air coils are lightweight and flexible, enhancing patient comfort.
St. Peter's also has breast coils specifically for conducting breast MRIs.
The 3T MRI consumes less power to operate and is smaller than a typical MRI machine – making it more environmentally friendly.
Additionally, the new technology is twice as powerful, generating the highest-quality images available. This allows providers to more easily evaluate injuries and illness.
Oncology
For cancer care and diagnosis, 3T MRI can offer precise evaluations of tumors and lesions of the body – including the prostate, pelvis, breast, spine, brain, liver, and small bowel.
Neurology & MS
For neuroimaging, there is better detection of lesions in inflammatory cerebral diseases like multiple sclerosis (MS). There also is increased detection of small tumors throughout the body and brain, better detection of small and acute strokes, and improved imaging for brain hemorrhage in head trauma or stroke.
Cardiovascular
High-quality vascular imaging can also improve angiogram studies to the point where invasive interventional catheter studies may not be needed in some cases. Cardiac imaging is also offered, including safe MRI scans for those with pacemakers.
Orthopedic
T3 MRI provides more detailed images of ligaments, tendons, and bones for more accurate evaluation of sports injuries, trauma and degenerative diseases of bones and joints. This can be helpful when diagnosing issues with more complex joints like the hands and wrists.
To reach the St. Peter's Medical Imaging at 279 Troy Road (Walmart Plaza on Route 4) in East Greenbush, please call 518-880-6300. The location is open from 7 a.m. to 4 p.m., Monday through Friday.
https://www.sphp.com/find-a-service-or-specialty/medical-imaging/3t-mri-technology