LiveSmart: Respiratory Illness Season is Here – How Best to Test and Treat at Home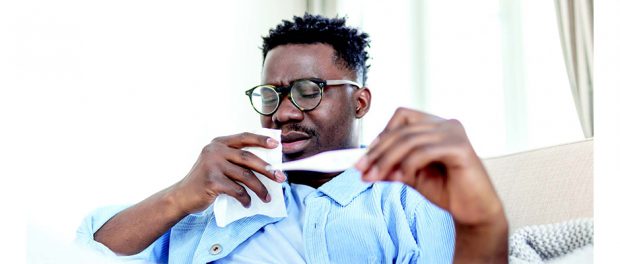 [This article written by the Emergency Services Team at St. Peter's Health Partners.]
Although no longer considered a national and public health emergency, COVID is still circulating in the community, with two new variants identified. In addition, we are entering cold and flu season, which means we are facing a trifecta of respiratory illnesses.
With an increasing number of people looking for testing and confirmation that they do – or do not – have the COVID virus, it is a good time to remember: DO NOT go to the emergency department with mild symptoms of respiratory illness or for routine testing for COVID.
By testing and managing mild respiratory symptoms at home, you are doing your part to help keep critical beds open in local hospitals. If you have serious symptoms like a high fever, trouble breathing, or chest pain, please call 9-1-1 or immediately go to the emergency department for care.
If you are experiencing symptoms such as headache, cough, fever, runny nose, scratchy throat, and congestion, start with an over-the-counter, at-home COVID test from your local pharmacy. If the test comes back negative, test at least twice more over three days with at least 48 hours between tests. If it comes back positive, quarantine for at least five days and wear a mask around people for an additional five days.
If you test positive, make sure to contact your primary care physician, who may prescribe you an antiviral medication like Paxlovid to help ease your symptoms and assist in keeping you from getting more ill. You should also alert friends, family and co-workers whom you may have exposed.
While you are recovering at home, remember to:
Monitor your symptoms carefully, especially fever. If they get worse, call your healthcare provider immediately.
Get rest and stay hydrated. Fever-reducing medications like Tylenol or Advil can offer relief from symptoms.
Wash your hands often.
As much as possible, remain in a specific room and away from other people in your house. If you need to be around other people in or outside of your home, wear a facemask.
Clean all surfaces that are high-touch in your home, including doorknobs, faucet handles, tabletops, and counters.
Cover your cough and sneezes and dispose of used tissues promptly.
The good news is the latest variants generally cause less severe symptoms than the earlier variants. That, combined with the partial immunity that many people have from previous infections and vaccinations, means most infections will be mild and can be successfully managed at home.
When emergency care is needed, St. Peter's Health Partners offers access to top-quality emergency departments and urgent care centers all across the Capital Region. Our emergency departments in Albany and Troy are open 24 hours, seven days a week, offering a wide range of services for emergency care with highly trained staff, diagnostic testing and access to specialists.
For more information, visit us at sphp.com/for-patients/think-before-you-go.