SPHP Accelerates Troy MFP for Planned Transitions of Samaritan and St. Mary's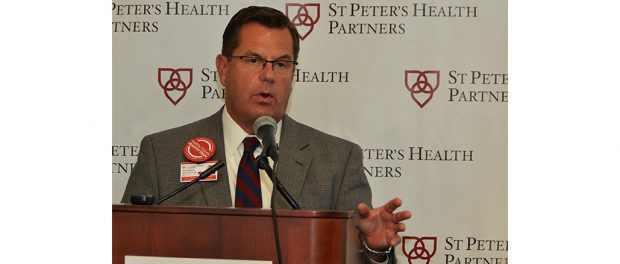 St. Peter's Health Partners (SPHP) today announced it has accelerated the date of a key milestone in its Troy Master Facilities Plan (MFP) – the planned transitions of Samaritan Hospital and St. Mary's Hospital into specific inpatient and outpatient facilities.
Beginning Oct. 1, 2016, Samaritan Hospital will transition to become the sole provider of inpatient acute care hospital services in Troy, and St. Mary's will continue its growth and transition into an advanced outpatient campus.
This transition, first announced in 2012 and revised in 2014, was originally planned to occur in late 2017 when the new Heinrich Medicus Pavilion opens at Samaritan Hospital. But the success of the two Troy facilities in consolidating services in Rensselaer County, when paired with other internal and external factors that have led to a reduced number of inpatients at Samaritan and St. Mary's, has allowed the transition to take place significantly ahead of schedule.
Actions taken to reduce inpatient admissions in Troy include the implementation of new measures to reduce the overall length of stay for patients, an expansion of case management programs to help make appropriate arrangements for patients and those in need of care, and efforts to reduce readmissions.
It is important to note the Emergency Department at the St. Mary's campus will remain open as a full-service Emergency Department until the new expanded Emergency Department at Samaritan Hospital opens in fall 2017.
Additionally, the inpatient chemical dependency rehabilitation program currently located at St. Mary's will remain there, and be expanded.
Also, as part of this transition process, St. Mary's Hospital and Samaritan Hospital expect
to merge in 2017, and operate as one hospital with two active campuses. The merged
hospital will continue to be part of SPHP.
"Our goal, from the very inception of the MFP, has been to provide the most broadly based, highest-quality and most accessible care possible for patients in Troy, Rensselaer County, and surrounding communities," said Norman Dascher, chief executive officer of Samaritan and St. Mary's hospitals, and vice president of Acute Care Troy for SPHP.
"Guided by the MFP, we have been working tirelessly to rebuild health care in Troy into a presence that is resilient, long-term, and sustainable. The success of our outstanding physicians and staff at Samaritan and St. Mary's, and the nationwide shift to more stringent criteria for admission to a hospital, has enabled us to shift inpatient and outpatient services at the two facilities sooner than we had originally planned."
The following changes will take effect on October 1, 2016:
The intensive care unit (ICU), critical care unit (CCU), and progressive care unit (PCU) at St. Mary's will be transitioned to Samaritan Hospital.
The inpatient chemical dependency detox beds at St. Mary's – which have been experiencing low utilization – will be closed; SPHP behavioral health leaders are in the process of working with community agencies, and county and state health officials to develop an outpatient detoxification program for Troy. Individuals in need of inpatient detoxification services will utilize existing medical/surgical beds at Samaritan Hospital, or be transferred to the inpatient chemical detoxification
program at St. Peter's Hospital in Albany.
Following the transition, SPHP will have a total of 203 inpatient beds at Samaritan Hospital.
SPHP senior leadership has been working to ensure a seamless transition for patients, and minimize the impact of the transition on staff. As part of this process, SPHP has been working to reduce its total work force in Troy by approximately 125 full-time positions.
Nearly all of these reductions have already been accomplished by eliminating unfilled positions, not refilling positions after staff departures and retirements, and offering impacted staff members other positions within SPHP. Less than 25 current staff are expected to be impacted. All impacted staff are expected to be offered comparable positions within the SPHP system.
Troy Master Facilities Plan
SPHP officials first announced its comprehensive Troy MFP plan in November 2012, as a three-phase, $150 million project to be completed by 2025. In January 2014, SPHP revised the MFP to a $99 million, multi-phased plan to be completed in late 2017.
Outlined in both plans were construction, renovation, and modernization efforts aimed at improving inpatient facilities on the Samaritan campus and outpatient facilities on the St. Mary campus. Multiple studies conducted during planning of the MFP suggested that Troy could not sustain two full-service community hospitals, and that a reconfiguration would be necessary to create efficiencies that provide fiscal sustainability, and would enable better access and more services for patients.
The Troy MFP represents one of the largest private-sector investments in Troy and Rensselaer County history. To date, major milestones of the MFP include:
Opening the new St. Mary's Cancer Treatment Center in June 2015
Opening the new $10 million, 570-car parking garage on the Samaritan Hospital campus in August 2015
Opening the renovated Samaritan Hospital School of Nursing on the St. Mary's campus in September 2015
Additionally, construction is underway on the centerpiece of the Troy MFP, the new five-story patient pavilion on the Samaritan Hospital campus. Expected to open in late 2017, the pavilion will feature an expanded emergency department with nearly double the current patient capacity, intensive care units with large private rooms, improved progressive care units, medical and surgical units designed to improve staff efficiency, and private rooms that provide staff unobstructed observation from nursing stations and corridors.
Upon its completion next year, the pavilion will be named the Heinrich Medicus Pavilion in honor of the 97-year-old Troy resident and former Rensselaer Polytechnic Institute professor who pledged $10 million to the project – the largest individual gift ever bestowed upon a health care institution in the history of Troy and Rensselaer County.
Following the transition, St. Mary's will serve as an advanced ambulatory campus providing vital services to the community. These services include cancer care, outpatient surgery, endoscopy, medical imaging, women's health center, sleep laboratory, laboratory services, dialysis center, pulmonary testing and rehabilitation, cardiac rehabilitation, wound care, a podiatry clinic, anti-coagulation clinic, and emergency services.
The campus will also continue to house primary care physician offices.