St. Peter's Health Partners and Ellis Medicine Receive Approval from NYSDOH to Collaborate Under Management Services Agreement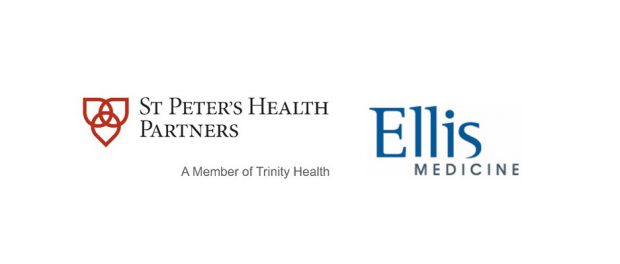 St. Peter's Health Partners (SPHP), a member of Trinity Health, and Ellis Medicine have received approval from the New York State Department of Health for a Management Services Agreement (MSA). The agreement allows the two organizations to work together on projects designed to preserve and expand the community's access to health care, while also strengthening Ellis' financial standing and quality metrics.
Ellis will remain independent from SPHP throughout the two-year term of the agreement, with its Board of Trustees retaining local control. Under the MSA, two Trinity-SPHP executives will join the Ellis Senior Leadership Team. While the long-term vision continues to be a full affiliation in the years ahead, the MSA does not commit either Ellis or SPHP to a full affiliation in the future.
With the recent state approval, both parties will begin to collaborate on projects to improve operations at Ellis, focusing on such areas as materials management, finance services, information technology, patient experience, property management, quality improvement, and risk management.
"Ellis is extremely proud of our people, the level of care we provide, and the community we serve," said Paul Milton, President and CEO of Ellis Medicine. "St. Peter's brings tremendous medical expertise and resources to Ellis to help preserve and complement the quality of care that our community deserves. The commitment St. Peter's is making to our region—while respecting the heritage of all the institutions that make up Ellis Medicine—gives us confidence that quality health care services will continue to be available to our neighbors, close to home."
James K. Reed, M.D., President and CEO of SPHP, added: "The approval of the MSA is the next logical step in our ongoing collaboration. As health care institutions, we are always looking at how to best improve care for the communities we serve. Partnering with Ellis on this agreement is the natural evolution of our already strong relationship and will allow us to expand and enhance the availability of high-quality health care services in the Capital Region. We anticipate the community will see more and even better care as a result of this partnership."
Under the MSA, there will be additions and changes to senior leadership at both organizations.
Leslyn Williamson, presently Chief Operating Officer / Chief Nursing Officer at Ellis Medicine, will become Executive Vice President of System Integration. In this position, Williamson will be tasked with ensuring positive outcomes as Ellis adopts best practices and operational changes from Trinity-SPHP. Williamson will also continue in her role as Chief Nursing Officer.
Kim Baker, President of Continuing Care at SPHP, which includes Sunnyview Rehabilitation Hospital in Schenectady, will transition to the role of Chief Operating Officer at Ellis, working closely with management and staff to improve operational efficiency across Ellis Medicine.
Steven Hanks, MD, Chief Operating Officer and Chief Clinical Officer at SPHP, will assume the role of Chief Clinical Officer for both systems. Dr. Hanks will focus on retaining physician talent and growing the medical staff; and building programs to improve quality and patient outcomes.
Meanwhile, the role of the Chief Medical Officer at Ellis will undergo a transformation to mirror the structure of the position within the SPHP and Trinity systems. Ellis's David Liebers, MD, will assume that role on an interim basis. Once that position is filled by Trinity-SPHP, Dr. Liebers will remain in a crucial clinical role as an infectious disease specialist, and also serve in an advisory capacity to the Ellis Senior Management Team and the new Chief Medical Officer.
Milton and Reed remain as President and CEO of their respective organizations.
The MSA approval comes on the heels of the Ellis-SPHP announcement on Nov. 3 of a joint Provider Transition Agreement (PTA). Under that agreement, employed Ellis Medicine providers and select management become employees of St. Peter's Health Partners Medical Associates (SPHPMA). The goal of the PTA is improved recruitment and retention, and the preservation of services in the community. Providers will continue to practice at Ellis locations with no disruption to patient care.
These latest agreements build on a long relationship between the two health care systems. Both Ellis and SPHP share a vision for a more fully integrated, region-wide approach to care that aims to improve the health of its neighbors; embraces new models such as value-based care; and lowers overall health care costs for the community. Both systems have been working toward this shared vision collaboratively since 2014 when they formed the Innovative Health Alliance of New York (IHANY) – the Capital Region's first Clinically Integrated Network.
Since its inception, IHANY lowered the cost of care in the Capital Region for both Medicare and Medicaid – the two key populations on which it is focused. IHANY was recently singled out by the Centers for Medicare & Medicaid Services (CMS) as an Accountable Care Organization (ACO) that had a positive impact on patient care and Medicare savings in 2020.
"The success of IHANY – through improved clinical integration, collaboration and shared accountability – demonstrates the power of regional health care organizations working together," said Reed. "The realization of better patient care through this collaborative model reinforces how a deeper relationship between St. Peter's and Ellis will yield even better results in the future."
SPHP and Ellis announced in October 2020 they had signed a letter of intent to examine the joining of both health care systems. Both the MSA and PTA are steps toward that long-term vision of a full affiliation. These collaborative agreements between both parties are designed to work in tandem to preserve quality health care services in Schenectady and surrounding areas by addressing significant financial challenges at Ellis Medicine—which are exacerbated by the departure of providers from the community.
With a full affiliation as part of the vision years down the road, Ellis Medicine is continuing its public outreach campaign to educate the community on its collaborations with SPHP, gather public input, and hear any concerns.
"We will continue to engage medical leaders and physicians, as well as a range of other community members, to ensure we hear a variety of perspectives," said Milton. "We understand the importance of these affiliation discussions to everyone who relies on Ellis Medicine for care and are confident the community will see this is the right decision to enhance and increase access to care for years to come."