St. Peter's Hospital Celebrates Record Number of Births in 2019
As the first cries were heard from the mouth of little Declan Charles Cruz Carman, cheers erupted on the Labor and Delivery floor of St. Peter's Hospital. The birth of baby Declan on December 17, not only represented a new life born into this world, but it also set a new hospital record — he was the 3,000th baby born at St. Peter's Hospital during 2019. That's the largest number of babies ever delivered in one year at the hospital, and is also believed to be the largest number of deliveries in one year at any facility in the Capital Region.
"St. Peter's Hospital has established itself as a leader in obstetrics and gynecology, and in women's healthcare overall," said Mike Finegan, president of Acute Care at St. Peter's Health Partners (SPHP). "Women and families trust we will provide them with the highest quality of care and greatest level of compassion needed during such a transformative time in their lives."
St. Peter's Hospital typically averages 250 births per month. It became clear the institution was on a record-setting track in August, when staff delivered 296 babies, including more than 100 babies in just seven days.
"This achievement reflects the high quality of excellence and dedication displayed by our providers, nurses, and support staff every single day," said JoAnn Lionarons, director of Women's and Children's Services for One Acute, St. Peter's Health Partners. "They have worked overtime, sometimes for days in a row, to make sure our patients receive the high level of care they deserve and expect when they walk through our doors."
In addition to the record-setting number of births, hospital colleagues set a record themselves: 20 staff members have been, or are, pregnant this year – a record for the Women's and Children's Services department.
"While our staff performs acts of heroism every shift, the real heroes are the moms and families who entrust us with one of the most precious and delicate times in their lives," said Tammy Stone, nurse manager for Women's and Children's Services. "We are grateful for that trust and so proud of our staff for all of their hard work this year."
To mark the milestone, the hospital, in coordination with the St. Peter's Hospital Foundation, presented Declan's parents, Aaron Carman and Carmelita Cruz of Albany, with a special gift that included a $250 Target gift card, a bottle of champagne, and $50 gift certificates to Jacob and Anthony's and Bellini's restaurants, part of the Marrello Management Group.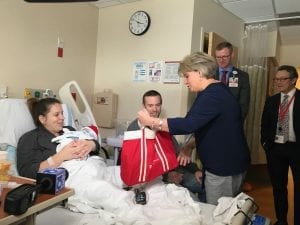 "We know how hard it can be for the mom and dad in those first few weeks home," said Lionarons. "Thanks to the generosity of Jacob and Anthony's and Bellini's, they can enjoy a night out or some takeout to help make life a little easier."
St. Peter's Hospital is a recognized leader in women's healthcare. Earlier this year, it received the 2019 Women's Choice Award as one of America's Best Hospitals for obstetrics for the fifth consecutive year. St. Peter's was also the first hospital in the Capital Region to earn the prestigious "Baby-Friendly" hospital designation. The global initiative, launched by the World Health Organization and United Nations Children's Fund, means that St. Peter's follows evidence-based best practices for all moms and babies, and offers an optimal level of care for infant feeding and mother/baby bonding.
That optimal level of care also includes a state-of-the-art Level III Neonatal Intensive Care Unit (NICU). Staffed with board-certified neonatologists, neonatal nurse practitioners, and registered nurses certified in neonatal nursing, the St. Peter's Hospital NICU provides specialized care to newborns who require close observation following birth–from days to weeks to months.
"St. Peter's Hospital is proud to have assisted and supported so many new mothers on their journey through motherhood this year," said Sandra Michael, RN, BSN, SNT, MST, CLC, CBC, RN-BC, manager of community integration, lactation and newborn services, Women's and Children's division at St. Peter's Hospital. "St. Peter's Hospital prides itself not only on providing compassion, experience and expertise to new moms and their babies in a warm, caring environment while they are guests at the hospital, but also after they go home. We are honored to provide breastfeeding mothers with the support, confidence and resources they need to successfully initiate and continue breastfeeding their babies. Our certified lactation consultants are available after discharge, and we offer a variety of community education programs to help get new moms and dads off to a good start on the road to parenting."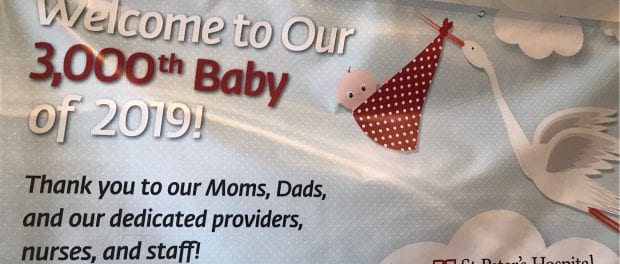 For information on delivering a baby at St. Peter's Hospital, as well as breastfeeding, placental donation, infant care, or parenting classes, please call 518-525-1388 or visit https://www.sphp.com/womens-childrens-sph.