St. Peter's Hospital Receives Highest Nursing Recognition for Third Time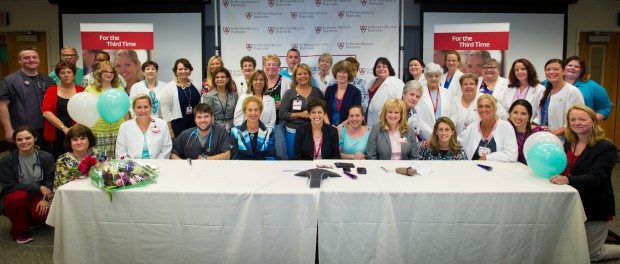 St. Peter's Hospital, an affiliate of St. Peter's Health Partners, has been granted recognition as a Magnet-designated organization for the third consecutive time by the American Nurses Credentialing Center (ANCC) Magnet Recognition Program.
St. Peter's Hospital is one of less than 150 hospitals in the world to achieve three consecutive Magnet designations.
The prestigious Magnet designation recognizes excellence in nursing services, and represents sustained and demonstrated patient care outcomes that are a result of superior nursing and interdisciplinary care. St. Peter's Hospital is the only hospital in Albany, Rensselaer, or Schenectady counties, and one of only 22 in New York state, designated by Magnet.
Magnet recognition has become the gold standard for nursing excellence and is taken into consideration when the public judges health care organizations. In fact, U.S. News & World Report's annual showcase of "America's Best Hospitals" includes Magnet recognition in its ranking criteria for the quality of inpatient care.
St. Peter's Hospital was first designated as a Magnet organization in 2005, and then again in 2009.
"We are tremendously pleased and very proud to receive Magnet designation for the third consecutive time," said Jane O'Rourke, DNP, RN, NEA-BC, CENP, vice president of operations and chief nursing officer at St. Peter's Hospital.
"Magnet designation is the ultimate distinction for high-quality nursing and a leading source of nursing best practices worldwide," O'Rourke said. "Receiving this distinction for the third time is an important milestone for us, and reinforces what we hear from our patients every day: the nurses at St. Peter's Hospital provide exceptional and compassionate care."
"On behalf of everyone at St. Peter's Hospital and St. Peter's Health Partners, we applaud the efforts of our nurses and their success in achieving Magnet designation for the third consecutive time. This is a great tribute to the leadership of Jane O'Rourke and her team," said Ann Errichetti, MD, MBA, chief executive officer of St. Peter's Hospital and Albany Memorial Hospital, and vice president for Albany Acute Care at St. Peter's Health Partners. "This honor is an outstanding reflection of the talent, compassion, and expertise that St. Peter's Hospital nurses demonstrate every day."
ANCC informed St. Peter's Hospital of the news this morning during a conference call. On the call, Donna Havens, PhD, RN, FAAN, chair of the Commission on Magnet Recognition, praised the work of St. Peter's Hospital and its nurses. Specifically, she applauded the role of nurses in logistics, scheduling, interdisciplinary collaboration, care coordination, and decreasing in the average length of patient stays at the hospital.
"Congratulations for a job well done, a third designation is an amazing accomplishment," Havens said during the call. "This is testament to your commitment to nursing excellence, to the organization's commitment, to the entire health care team, but most importantly to your patients."
Magnet re-designation is a vigorous process that becomes more difficult with each consecutive application. St. Peter's earned its third designation following a rigorous review of the hospital and its various programs. The document submitted to support St. Peter's Hospital's third designation totaled more than 1,500 pages, prepared and submitted by more than 100 writers and contributors.
Following the review, Magnet Appraisers visited St. Peter's Hospital from May 13-15 of this year to assess how the hospital meets Magnet Components. A unanimous vote of the Magnet Commission was required to receive the re-designation.