Three SPHP Hospitals Recognized as a "Best Hospital" by U.S. News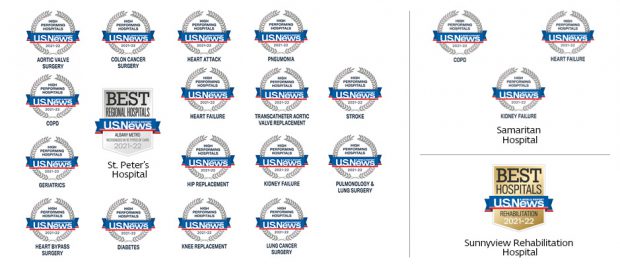 St. Peter's Health Partners' (SPHP) three hospitals – St. Peter's Hospital, Samaritan Hospital, and Sunnyview Rehabilitation Hospital – have each been recognized as a Best Hospital for 2021-22 by U.S. News & World Report. St. Peter's Hospital was named No. 1 in the Capital Region for the eighth year in a row; Sunnyview Rehabilitation Hospital was recognized as a nationally ranked rehab hospital.
For the 2021-22 rankings and ratings, U.S. News evaluated nearly 5,000 hospitals nationwide on key indicators of patient care, specifically looking at 15 specialties and 17 procedures and conditions. In the 15 specialty areas, only 175 hospitals were ranked in at least one specialty.
For SPHP, those rankings revealed:
St. Peter's Hospital was ranked 12th among more than 200 hospitals in New York state, and the highest in both the Capital Region and in northeastern New York. It was also recognized as high-performing in two adult specialties and 14 procedures/conditions: colon cancer; lung cancer; heart failure; aortic valve surgery; heart bypass surgery; transcatheter aortic valve surgery (TAVR); heart attack; diabetes; colon cancer; kidney failure; stroke; knee replacement; hip replacement; COPD; pneumonia.
Sunnyview Rehabilitation Hospital was nationally ranked at 46th out of more than 4,100 inpatient rehab facilities nationwide on U.S. World's "Best Rehab Hospitals" list, and was the only rehabilitation hospital outside of the metropolitan centers of New York City, Boston, Philadelphia and Pittsburgh to make the list in New York state, New England, Pennsylvania and New Jersey. They were recognized for excellence in rehabilitation.
Samaritan Hospital was recognized as high performing in three procedures/conditions: heart failure; kidney failure; COPD.
It marks the eighth year in a row that St. Peter's Hospital has been named among the best hospitals in New York state. It was the first time that Sunnyview Rehabilitation Hospital made the list, which is normally dominated by hospitals in larger metropolitan areas.
"We are tremendously pleased and very proud to receive this recognition for an eighth consecutive time from U.S. News," said Michael Finegan, President of Acute Care for SPHP. "The healthcare teams at St. Peter's and Samaritan hospitals, despite the ongoing battle with COVID, have continued to provide high-tech, compassionate care to our communities. Their hard work and dedication are what drive these accolades each year, and I know these teams will continue to inspire and heal our community in the weeks and months ahead."
A local leader in the field of rehabilitation, Sunnyview is also a nationally recognized center of excellence for robotics.
"It is the expertise, hard work and compassionate care provided by the Sunnyview team that sets us apart, and I could not be prouder," said Kim Baker, CEO of Sunnyview Rehabilitation Hospital and President of Continuing Care, SPHP. "Our exceptional scores in patient safety; the volume of stroke, traumatic brain injury, and traumatic spinal cord injury patients we help on their rehabilitation journey every day; and the depth and breadth of advanced technologies we offer – all of it leads to better patient care and better patient outcomes. COVID has made the past year a challenge, yet this amazing team continued to provide outstanding patient care, and for that I offer them my utmost gratitude and thanks."
The annual Best Hospitals rankings and ratings, now in their 32nd year, are based on objective measures such as risk-adjusted survival and discharge-to-home rates, volume, and quality of nursing, among other care-related indicators.
About St. Peter's Hospital
St. Peter's Hospital, an affiliate of St. Peter's Health Partners, is the largest Catholic acute care community hospital in northeastern New York state. Located in Albany, New York, the hospital was founded in 1869 by the Religious Sisters of Mercy. St. Peter's offers a comprehensive range of inpatient and outpatient services and diverse outreach programs in the areas of women's and children's services, neonatal intensive care, rehabilitation, surgery, ambulatory care, outpatient medical imaging, and care for the elderly. For more information, please visit www.sphp.com.
About Sunnyview Rehabilitation Hospital
Founded in 1928, Sunnyview Rehabilitation Hospital is a 115-bed comprehensive rehabilitation hospital. Located in Schenectady, NY, it is dedicated to providing high quality services from acute rehabilitation to education about disabilities, to re-entry into the community. Every year, more than 15,000 individuals come to Sunnyview from across the greater Capital Region and beyond. Sunnyview serves patients from across all of New York state as well as numerous other states as far as California.
About St. Peter's Health Partners
With 11,000 employees in more than 170 locations, St. Peter's Health Partners is one of the Capital Region's largest and most comprehensive not-for-profit integrated health care networks, and provides high-quality, compassionate, and sophisticated care to thousands of people every day. St. Peter's Health Partners is a member of Trinity Health, one of the nation's largest Catholic health systems. For more information, please visit www.SPHP.com.
ABOUT U.S. NEWS & WORLD REPORT
U.S. News & World Report is the global leader in quality rankings that empower citizens, consumers, business leaders and policy officials to make better, more informed decisions about important issues affecting their lives. A multifaceted digital media company with Education, Health, Money, Travel, Cars, News and 360 Reviews platforms, U.S. News provides rankings, independent reporting, data journalism, consumer advice and U.S. News Live events. More than 40 million people visit USNews.com each month for research and guidance. Founded in 1933, U.S. News is headquartered in Washington, D.C.