Give 'em Pumpkin to Talk About – Delicious and Nutritious Pumpkin Turkey Chili!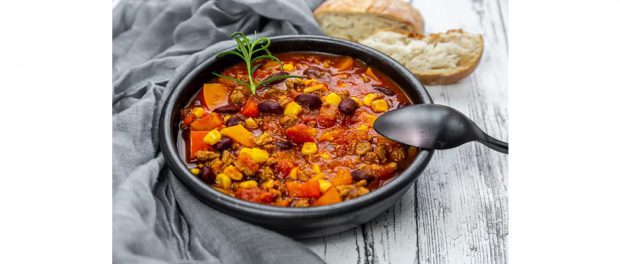 You know that glorious, vibrant orange color distinctive of pumpkin? That color is from beta-carotene, a red-orange pigment that is found in fruits and vegetables. Beta-carotene is a member of a group called the carotenoids, a group of antioxidants that are converted into Vitamin A in the human body. Beta-carotene contributes to skin health, eye health and boosts immunity.
Pumpkin is also packed with fiber. As we know, fiber plays a crucial role in your digestive, heart, and skin health. Additionally, adequate fiber intake can improve blood glucose levels, and help in efforts to manage your weight.
Pairing pumpkin with the low-fat protein of turkey in a chili is a great combo that is not only delicious — redolent with the sweet, nutty flavor of fall — but good for you, too!
Pumpkin Turkey Chili
Serves 4
Ingredients
2 tablespoons, olive oil
1 medium yellow onion, chopped
1 green bell pepper, seeded and chopped
2 medium jalapenos, seeded and diced (smaller pieces than your onion/pepper)
2 cloves garlic, diced
1 pound ground turkey
1 can (14.5 ounces) diced tomatoes (use the liquid too!)
1 can (15 ounces) pumpkin puree
1 cup water
1 tablespoon chili powder
1 teaspoon ground cumin
½ teaspoon salt
2 cans (15 ounces) kidney beans, drained
Instructions
Heat oil in large pot over medium heat.
Once oil is warmed, add your onion, bell pepper, and jalapenos. Sauté until all vegetables are tender and onions are starting to turn translucent (about 5 minutes).
Add in garlic and cook until fragrant, about 1 minute.
Add the ground turkey and cook until it is browned.
Add tomatoes, pumpkin, water, spices, and salt and stir.
Add beans and reduce heat to medium low.
Simmer for 20-30 minutes and stir occasionally. If chili becomes too thick, add more water or part of another can of diced tomatoes.
Serve and enjoy!