LiveSmart: Avoid the "Summer Slide" – Make Time for Reading This Summer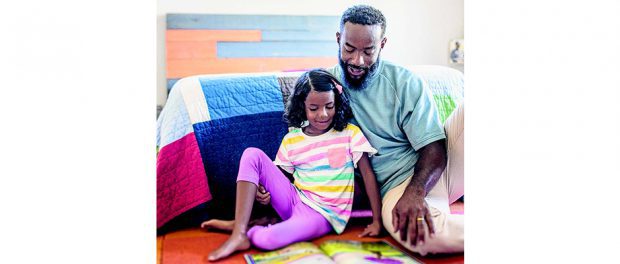 [This story was written by Mark Osborn, M.D., Chief of Pediatrics for St. Peter's Hospital, and a provider with St. Peter's Children's Health Center.]
Summer's here, which means many kids will be experiencing the "summer slide." But, we are not talking about the fun they might encounter at the local playground or waterpark.
The summer slide is the loss of academic skills that occurs when school is not in session. Studies differ, but on average, kids can lose up to two months of learning over the summer and it is attributed largely to a lack of reading.
What can parents do to close the gap? Building a daily habit of reading aloud to children when they are younger is an excellent place to start. Parents are encouraged to:
Make reading aloud a priority. Plan for it – it will be your most enjoyable "chore" of the day!
Read books you both enjoy on topics that engage your child. And, don't be afraid to get silly with voices and facial expressions.
Read some books beyond your child's capabilities – this is a great way to increase your child's vocabulary.
Studies show that long after children learn to read for themselves, they still enjoy read-aloud time. Reading chapter books aloud with an older child through junior high, with you and your child trading off reading chapters, can be a great way to wind down after a hectic day.
Countless studies have shown that just 20 minutes a day of reading increases a student's vocabulary exponentially. A student entering kindergarten who reads 20 minutes per day will read 1,800,000 words by the end of sixth grade, compared with one minute per day and only 8,000 words.
For adolescents, setting the expectation for reading at least 20 minutes a day is a reasonable one, but one that many might chafe at. Parents are encouraged to work with their child to explore different kinds of reading materials. Novels, historical fiction, non-fiction, short fiction, poetry, graphic novels and magazines are all great options – the goal is to make reading a daily habit, regardless of format.
Parents are encouraged to take their children to their local library to explore the many options available, as well as engage in kid-friendly summer reading programs, contests, and learning activities. For more information and tips to encourage reading, visit the New York State Education Department's Summer Reading at New York Libraries website at www.summerreadingnys.org or your local library's website.
St. Peter's Children's Health Center, 1092 Madison Avenue in Albany, offers a complete range of services for children from newborns to age 18. Services include well-child routine care, sick-child exams, school and camp physicals, sports physicals, immunizations, health maintenance and education, and access to other hospital services and referrals to specialists. Call 518-525-2445 for more information or an appointment.