LiveSmart: Cervical Cancer Diagnosis – What Comes Next?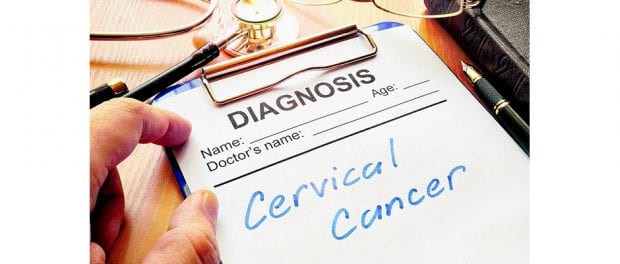 [This piece was written by Joyce N. Barlin, MD, FACOG, FACS, with Women's Cancer Care Associates, LLC, and St. Peter's Hospital Cancer Care Center.]
The National Cancer Institute estimates 10,000 women in the United States will be diagnosed with cervical cancer this year. It can be an overwhelming diagnosis to receive, one followed by numerous questions, not the least of which is "what comes next?"
The stage at which you or your loved one's cervical cancer is detected is the most important factor in determining treatment. In choosing your treatment plan, you and your cancer care team will also consider:
The location of the cancer in the cervix
The type of cancer (squamous cell or adenocarcinoma)
Your age and overall health
If you are planning on having children
Common treatments, which may be used in conjunction with each other, for cervical cancer include:
Radiation therapy, which utilizes x-rays or radioactive particles to kill cancer cells.
Chemotherapy, which uses anti-cancer drugs injected into the bloodstream or taken orally.
Targeted therapy, which uses specialized drugs to target cancer cells.
Immunotherapy, which uses medications to stimulate a person's own immune system to destroy cancer cells.
Surgery, which can include cryosurgery, laser surgery, conization, trachelectomy, and hysterectomy.
Hysterectomy is one of the most common gynecologic operations performed, particularly in the treatment of uterine and cervical cancers. Hysterectomy is also used for a variety of non-cancer indications.
At St. Peter's Hospital, patients have the option of using robotic-assisted surgery for hysterectomies and other reproductive system procedures. Since 2005, board-certified gynecologic oncologists at St. Peter's have been pioneering the use of robotic surgeries for women in the Capital Region with their use of the state-of-the-art daVinci ® robotic surgical system.
The daVinci system is less invasive, more precise and offers advantages to the patient including:
Significantly less pain
Less blood loss and fewer transfusions
Fewer complications, including less risk of infections
Less scarring
A shorter hospital stay
A faster return to normal daily activities (within one to two weeks instead of the normal six to eight)
Robotic surgery may not be right for everyone. Two studies released in October 2018 cautioned against laparoscopic or robotic surgery in treating cervical cancer, noting an increase in the likelihood the cancer may return. You and your surgeon should discuss whether the minimally invasive or the open abdominal approach is best for you and your treatment and recovery.
St. Peter's Cancer Care Center takes pride in offering a treatment approach that is patient-centered and supported by a multidisciplinary team for treatment planning. St. Peter's Hospital was named one of America's Best Hospitals for Cancer Care by the Women's Choice Award in 2017 and 2018.
Women's Cancer Care Associates is located on the St. Peter's Hospital campus at 319 South Manning Blvd., Suite 301, in Albany. At Women's Cancer Care Associates, we are devoted to addressing the individual needs and demands of patients in a warm and caring environment, providing a full range of gynecologic oncology services. For more information, please call 518-458-1390 or visit womenscancer.net.
For more information on cervical cancer diagnosis and treatment, visit cancer.org/cancer/cervical-cancer/