LiveSmart: Diabetes Awareness Month – Start Spreading the News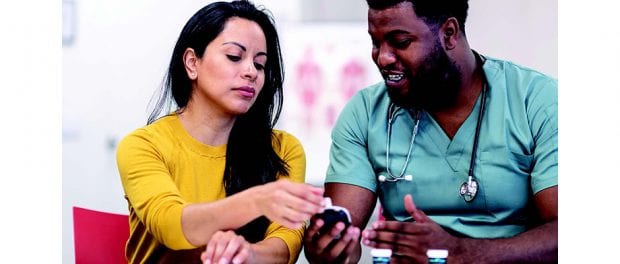 [This piece was written by Lynn Sutton, RD, CDN, CDE, supervisor/program coordinator of the Diabetes Education Program at St. Peter's Diabetes & Endocrine Care.]
Communities across the country are joining forces this November – National Diabetes Awareness Month – to share information about diabetes that could save millions of lives … maybe even yours.
Diabetes is a disease that causes abnormal blood sugar levels because the pancreas doesn't make enough insulin and cells do not use the insulin well. This can lead to blindness, heart attack, amputation or kidney disease. The good news? It CAN be managed.
Type 2 diabetes is the most common form. Twenty-five percent of adults with diabetes don't even know they have it. By the time of diagnosis, the pancreas may have lost 50 percent of its ability to make enough insulin. Millions more have "pre-diabetes," putting them at higher risk of developing Type 2 diabetes. Early diagnosis and prevention is critical.
The American Diabetes Association recommends routine screening beginning at age 45, and earlier if you are overweight with additional risk factors such as a sedentary lifestyle, a family history of diabetes, history of gestational diabetes, high blood pressure, or low HDL cholesterol with high triglycerides.
See your doctor right away if you are experiencing these symptoms of diabetes:
Frequent urination
Excessive thirst
Extreme hunger
Unusual weight loss
Extreme fatigue
Irritability
Blurry vision
If you already have diabetes, you probably know there are things you can do to delay or even prevent serious complications. To start, consult with your doctor and start a safe fitness routine. Regular exercise is good for your heart and can help with weight loss, which can lower high sugar levels. Even walking 15 minutes after a meal will help you use sugar (glucose) better.
Find a registered dietitian/certified diabetes educator to help you improve your diet. Avoid sugar-sweetened beverages and juice. Drop chips, fries, processed and refined carbohydrates, sweets and saturated fats from your diet. Focus on vegetables and fruits and foods with fiber. Select foods that could be picked from a tree or a bush, or dug from the ground. Limit snacking but do eat three meals.
Some people may benefit from medications. Talk with your doctor about your individual needs. Monitor your blood sugar as often as your doctor recommends so any problems are caught early.
Tell your doctor if you have foot sores or other foot problems that aren't healing. Brush/floss your teeth daily to avoid serious gum infections. Keep your vaccines up to date, as high blood sugar can weaken your immune system. If you smoke, try to quit.
You CAN prevent or manage diabetes. Spread the news!
At St. Peter's Diabetes and Endocrine Care, our multi-disciplinary team of endocrinologists, advanced practitioners and Certified Diabetes Educators are dedicated to helping individuals with diabetes and other endocrine and metabolic disorders improve their quality of life.
Our specialized services include complication screenings; prevention and treatment; medication management; foot care; onsite HbA1c testing; nutritional counseling; support groups; and individual and group education classes. For information, call 518-471-3636 or visit us at St. Peter's Diabetes and Endocrine Care.