LiveSmart: Diabetes – Wound Care Starts With Your Feet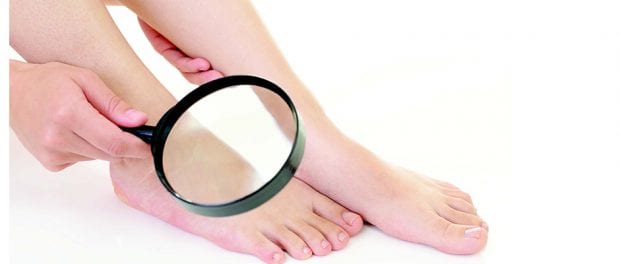 [This piece was written by Deidre Dennison, BSN, RN, RN Care Coordinator with Advanced Limb Preservation, St. Peter's Health Partners.]
"Time heals all wounds," as they say … but advanced wound care can help.
Each year, more than one million people with diabetes will develop a foot ulcer. These ulcers can lead to wound infections and progressive tissue loss. Twenty to 30 percent of these cases will eventually require amputation.
If you have diabetes, it is extremely important to pay attention to your feet every day. There are simple steps you can take at home to help prevent wounds.
Wash your feet in warm water daily (test the water temperature with your elbow to make sure it is not too hot).
Dry your feet well, especially between the toes.
Use lotion, but not between your toes.
Inspect your feet daily for sores or changes and report them to your doctor.
If you have diabetes and develop a sore on your foot that won't heal after three weeks, see your doctor right away. You may have impaired blood flow in your legs, caused by peripheral arterial disease (PAD), and need to see a vascular and/or wound specialist.
PAD effects diabetics earlier in life than the general population and can become advanced at earlier ages. Your physician will likely begin the screening process by ordering a pulse volume recording (PVR), a painless, non-invasive assessment where cuffs are placed on the legs to detect blood flow issues. Such early assessments, combined with interventional measures and advanced wound care, can help preserve limbs and improve the quality of life for people suffering with chronic wounds.
Advanced therapies, such as hyperbaric oxygen therapy (HBOT), play a significant role in the effort to help heal diabetic wounds and decrease the need for major amputations. Advanced therapies, when used alongside localized wound care, proper management of diabetes, and vascular intervention, are critical in preserving quality of life for people treating limb-threatening wounds.
At St. Peter's Health Partners, our Advanced Limb Preservation program focuses on healing wounds in patients with diabetes, PAD, and other vascular problems.
Our team of specialists from vascular surgery, podiatry, cardiology, endocrinology, infectious disease, and wound care take a comprehensive approach, which can include HBOT; angioplasty, stents, atherectomy and bypass surgery; and complete decongestive therapy to improve lymph drainage.
For more information, call 518-525-8220, option #1, or visit us at www.sphp.com/limb.