LiveSmart: Dive into Aquatic Therapy for Improved Function, Flexibility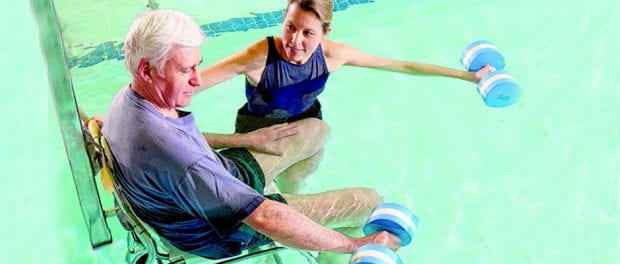 [This piece was written by Lara Habura, OTR/L, supervisor of rehabilitation services, Clifton Park Physical Rehabilitation, part of St. Peter's Health Partners Patient Therapies.]
The many benefits of physical therapy following surgery and injury, as well as a treatment for chronic pain, are well-documented. Among the techniques available to therapists, aquatic therapy has emerged as one of the most dynamic and life-changing for those individuals looking to restore their strength, mobility and balance.
Aquatic therapy, also known as hydrotherapy or pool therapy, utilizes the natural buoyancy of water to help patients perform the exercises of physical therapy in a nearly gravity-free setting. By relieving patients of most of their body weight, aquatic therapy allows them to move more easily, helping them to heal and to improve their functional abilities outside of the pool.
While in water, the individual can exercise with a greater range of motion without harming their joints or re-injuring themselves. This is particularly beneficial for those receiving therapy for arthritis and other bone and joint conditions, including following orthopedic procedures such as knee and hip replacement surgery.
The National Institute of Health recently noted in a study that those patients who utilized aquatic therapy had reduced swelling in the injury or surgical site, due to the pressure from the water. It was also reported the workouts increased circulation through the injured area, promoting faster healing.
Aquatic therapy can also be prescribed for neurological conditions that affect movement, including multiple sclerosis, brain and spinal-cord injury, stroke, Parkinson's disease and cerebral palsy. Is it also beneficial for people living with obesity and chronic joint or back pain.
St. Peter's Health Partners has two therapy pools, offering aquatic therapy services at two convenient locations:
Clifton Park Physical Rehabilitation

648 Plank Road, Suite 101, Clifton Park

518-268-4800

Sunnyview Rehabilitation Hospital

1270 Belmont Avenue, Schenectady

518-382-4530
Both facilities feature state-of-the-art, in-ground pools, with water temperatures maintained at 92 degrees for maximum therapeutic benefit. The pools are completely accessible for mobility-impaired patients. The entire floor of Sunnyview's pool raises and lowers, enabling clients to participate in pool therapy or exercise classes without being concerned that their physical limitations will interfere.
Both locations offer a range of adaptive devices that provide buoyancy or resistance for exercising. These include water weights, dumbbells, belts and tethering systems. The Clifton Park pool also features the area's only underwater treadmill.
Our therapists remain with patients in the water during sessions to help even those who are not usually comfortable in water. For those who don't require therapy, both locations offer aquatic-therapy exercise classes to community members that can help improve and maintain fitness and cardiovascular health.
For more information, visit us at www.sphp.com/physical-therapy or call 518-268-4800.