LiveSmart: Don't Let Winter Fun Go Down Hill … Think Safety!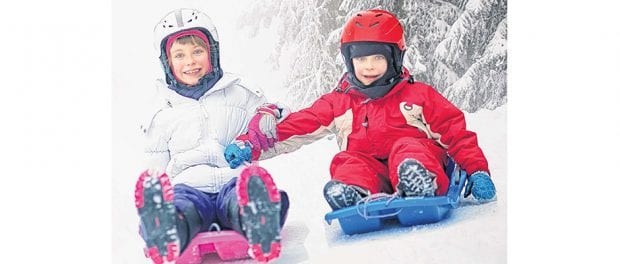 [This article was written by Mark Osborn, M.D., Chief of Pediatrics for St. Peter's Hospital, and a provider with St. Peter's Health Center for Children.]
Mother Nature has brought back winter with a vengeance this year! With a respectable amount of snow having already fallen this winter season, there is no lack of outdoor winter activities. Many will hit the slopes and the local sledding hill … just take precautions to make sure that slippery slope doesn't lead you to the emergency room, or worse.
With sledding, most injuries happen when sleds collide with other sleds or obstacles, or when sledders lose control/fall off while moving. The National Safety Council estimates there are 33,000 emergency room visits each year for sledding injuries, most involving children ages five to nine. Follow these basic rules for a safe, fun time:
Make Sure Your Equipment is in Order
Before heading out, check your equipment for broken parts, sharp edges, cracks, and split wood. Any of these are an invitation to injury. Sleds you can steer/stop are safest. Avoid using homemade sleds, like garbage can lids, that easily slide out-of-control.
Check Out the Hill for Safety
Choose hills with gentle slopes and long run-off areas so the sled can come safely to a stop.
Avoid icy hills.
Choose hills free of jumps, bumps, holes and obstacles like trees, signs, fences, rocks, and telephone poles.
Don't sled near roads or water (even if it is frozen, it may be unstable).
Don't sled if temperatures are too cold (to avoid hypothermia and frostbite).
Follow the Rules
Sit up/lay on your back on the sled. NEVER slide head first or standing up. (Sliding headfirst greatly increases the chances of a severe head injury.)
Make sure your path is clear.
If you fall off the sled, or stop unexpectedly, quickly move out of the way of other sledders.
Walk up the SIDE of the hill, away from other sledders.
Wear a Helmet
Most sledding injuries involve facial lacerations and skull fractures. A correctly worn helmet can greatly reduce the chances of suffering a concussion or other traumatic head injury. The same rule applies to skiing and skating.
Dress Appropriately
As with all winter activities, dress for the weather. Layers are recommended, with water-resistant clothing as your outer-most layer. And don't forget your gloves, not only to keep your hands warm but also to protect them from injury.
Enjoy all that winter has to offer, just keep safety in mind to maximize the fun. Happy sledding!
St. Peter's Health Center for Children, 1092 Madison Avenue in Albany, offers a complete range of services for children from newborns to age 18. Services include well-child routine care, sick child exams, school and camp physicals, sports physicals, immunizations, health maintenance and education, and access to other hospital services and referrals to specialists. Call 518-525-2445 for more information or an appointment.