LiveSmart: Everybody in the Water – Safely!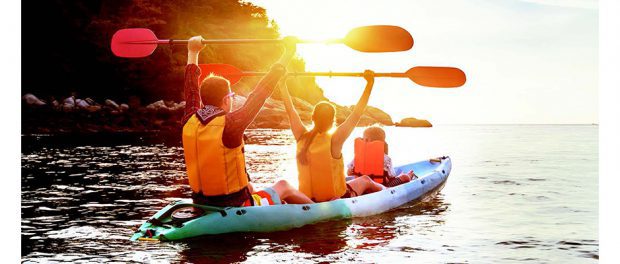 [This article written by Mark Osborn, MD, Chief of Pediatrics for St. Peter's Hospital, St. Peter's Health Center for Children.]
Summer is officially here! The kids are out of school, temperatures are on the rise, and for many that means it's time to hit the water. While part of summer is making memories at local lakes and ponds, swimming holes and pools, ensuring the memories are good ones means putting safety first.
Every day, about 10 people die from unintentional drowning, according to the Centers for Disease Control and Prevention, and half of those individuals are children aged 14 or younger. And for every child who dies from drowning, another five receive emergency department care for nonfatal submersion injuries.
Drowning happens quickly and quietly. So, parents: When your kids are on, in or near the water, you're on full-time duty. No one wants an enjoyable day at the pool or the beach to end in tragedy.
To make sure the kids have a safe and happy summer, follow these tips:
If you own a pool, have it surrounded by the appropriate fence and secure when not being used. Families who use backyard wading pools should turn them upside down when they're done playing for the day.
Always have designated adults supervising kids in the water. For small kids, this means being within arm's reach at all times.
Don't read, talk on the phone or do anything that distracts from your lifeguard responsibilities. Stay sober. Have a phone handy to call 9-1-1 if needed.
Have everyone in the family take swimming lessons. The American Academy of Pediatrics advises that parents use the age of three as a general guideline for the age to begin swimming lessons. Those old enough should learn cardiopulmonary resuscitation (CPR).
Don't use toys or flotation devices as a substitute for supervision or life jackets.
If you go to a public pool or beach, make sure it's in a supervised, marked area with a lifeguard present. Keep an eye on the weather.
Families who enjoy kayaking, canoeing or boating are also reminded children under 12 years of age are required by NYS law to wear a personal flotation device while on recreational watercraft less than 21 feet in length.
Finally, don't forget the sunscreen! It should be applied 15-30 minutes prior to being out, as well as every two hours while outside.
St. Peter's Health Center for Children, 1092 Madison Avenue in Albany, offers a complete range of services for children from newborns to age 18. Services include well-child routine care, sick-child exams, school and camp physicals, sports physicals, immunizations, health maintenance and education, and access to other hospital services and referrals to specialists. Call 518-525-2445 for more information or visit https://www.sphp.com/location/st-peter-s-health-center-for-children.