LiveSmart: Sheltered at Home? Be Aware of Common, Hidden Toxins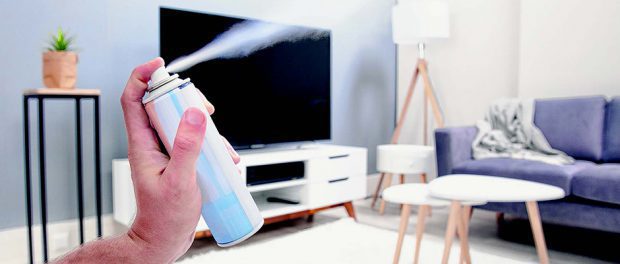 [This article was written by Mark Osborn, M.D., Chief of Pediatrics for St. Peter's Hospital, and a provider with St. Peter's Health Center for Children.]
Over the past several months, families have been sheltering-in-place all across the country in response to the COVID pandemic, doing their best to reduce their exposure and maintain social distancing. Of course, you'd like to think your children are safest at home, but there are hazards of which you might not be aware.
CARBON MONOXIDE
The most immediate, potentially lethal danger in the home environment is carbon monoxide. Early symptoms of poisoning are flu-like – headaches, fatigue, nausea, dizziness – but without the fever.
Carbon monoxide can be emitted from a furnace, gas stove, space heater, dryer or even a poorly functioning wood burning stove or fireplace. Running a generator or other gas-powered devices like a lawnmower in an attached garage can also leak fumes into the house.
Having a carbon monoxide detector in the living area of your home is a simple step to ensure any buildup is identified before it becomes dangerous.
LEAD
Lead poisoning builds up in the body over a period of months or years and can be hard to detect until dangerous amounts have been accumulated. But even small amounts can affect nearly every system in the body and cause serious health problems.
Your pediatrician should be ordering routine lead level testing for your child at ages one and two. A simple blood test is all that is necessary to determine if children in these high-risk ages are suffering from elevated lead levels. However, lead testing can be ordered at any age based on risk assessment identifying possible exposure.
The major mechanism of lead poisoning is from microscopic paint chips settling on toys; and since kids under the age of three put everything in their mouths as a way of exploring their worlds, it's a big issue in the toddler years that has lifelong effects on learning.
VOLATILE ORGANIC COMPOUNDS (VOCs)
You may like the smell of volatile organic compounds, but that doesn't mean they are good for you. Scented laundry detergents, dryer sheets, and air fresheners are all prime sources of VOCs, which can be triggers for children with asthma and environmental allergies. The synthetic fragrances in many of these products emit dozens of different chemicals into the air, some of which are regulated as toxic or hazardous under U.S. federal laws.
Protect yourself by choosing unscented laundry products, and avoid other products that contain many of the same chemicals. Look for VOC-free versions of furniture polish, oven cleaner, bathroom and toilet cleaners, and floor cleaners – anything that contains fragrance.
St. Peter's Health Center for Children, 1092 Madison Avenue in Albany, offers a complete range of services for children from newborns to age 18. Services include well-child routine care, sick-child exams, school and camp physicals, sports physicals, immunizations, health maintenance and education, and access to other hospital services and referrals to specialists. Call 518-525-2445 for more information or an appointment.