LiveSmart: Forgo Aspirin with Children to Avoid Reye's Syndrome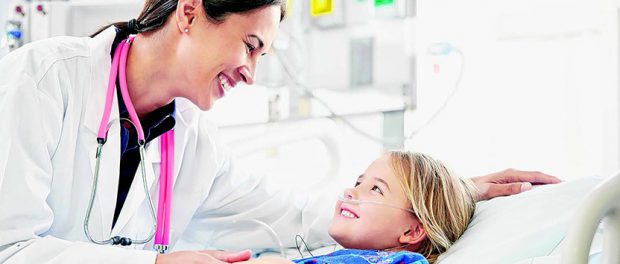 [This piece was written by Diane Tenenbaum, MD, of St. Peter's Children's Health Center.]
Of all the diseases that can affect the liver, one of the most rare is Reye's syndrome, which occurs primarily among children who are recovering from a viral infection. Although Reye's syndrome affects all bodily organs, it is most harmful to the liver and brain, with potential liver-related complications including fatty deposits, abnormal liver function tests, and poor blood clotting.
The cause of Reye's syndrome remains a mystery. However, studies have shown that using aspirin to treat viral illnesses increases the risk of developing Reye's syndrome.
Children and teenagers should not be given aspirin if they have chickenpox, flu, an upper respiratory illness or have a fever accompanying any undiagnosed illness. You should also withhold aspirin from a child who has recently received a vaccine.
Signs of Reye's syndrome may be seen once a child or teen appears to be recovering from an illness. It usually develops a week after the onset of the viral illness but can also occur a few days after onset. He or she may abruptly start to vomit repeatedly and frequently and become lethargic or sleepy.
This may turn into agitation or delirium as the child may become confused or unresponsive. Seizures and coma may follow unless urgent medical care is provided.
The U.S. Surgeon General, the Food and Drug Administration, the Centers for Disease Control and Prevention, and the American Academy of Pediatrics recommend that aspirin and combination products containing aspirin not be given to children under 19 years of age during episodes of fever-causing illnesses.
To relieve mild fever or discomfort during an illness, the alternative to aspirin is acetaminophen or ibuprofen (although some ibuprofen products may also include aspirin). Ibuprofen is approved for children six months of age or older, but it should not be given to a child who is dehydrated or who has been vomiting continuously.
This advice against the use of aspirin also applies to products that contain aspirin. Some over-the-counter medications, such as Excedrin, contain aspirin and salicylate, the ingredient in aspirin that is linked to Reye's syndrome. Some anti-nausea medications may also contain salicylates and can mask the symptoms of Reye's syndrome.
Acetylsalicylate is another word for aspirin; some medicine labels may use the words acetylsalicylate, acetylsalicylic acid, salicylic acid, or salicylate instead of the word aspirin.
With greater public education about the risk of Reye's syndrome, the small number of cases caused by aspirin have decreased even further. It is a reminder, however, of how parents and pediatricians must communicate with each other before children are given medications, including aspirin.
St. Peter's Children's Health Center (1092 Madison Avenue, Albany – 525-2445) offers a complete range of services for children from newborns to age 18. Services include well-child routine care, sick child exams, school and camp physicals, sports physicals, immunizations, health maintenance and education, and access to other hospital services and referrals to specialists.