LiveSmart: Hearing Screenings are Essential Care for Newborns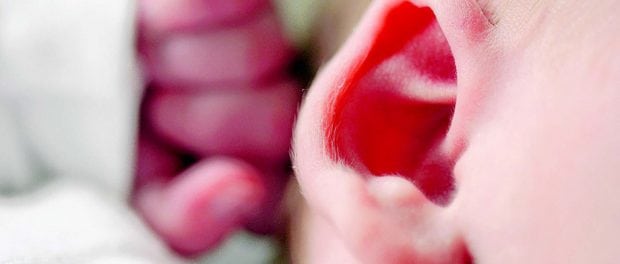 [This article was written by Debra Trees, Au.D., CCC-A, Doctor of Audiology, Audiology Supervisor at St. Peter's Hospital Hearing and Speech.]
In New York state, it is mandated all newborns undergo a hearing screening before they are discharged to go home. This screening is a critical first step towards a lifetime of good hearing health.
The screening helps determine if a newborn might be in need of intervention before they leave the hospital. Babies need to hear sounds in order to learn how to speak and engage with the world. The skills they establish in the early months of infancy and early childhood will have a profound impact on their language and learning capabilities as they grow.
Newborns have their hearing screened by trained caregivers utilizing one of two methods:
Otoacoustic Emissions (OAE) or
Auditory Brainstem Responses (ABR)
With OAE, the infant has a tiny microphone placed in his or her ear. With ABR, the infant has special headphones and tiny pads placed on their head. In both cases, soft sounds are played and the ear's response to those sounds is measured.
If the infant passes his or her screening, it means the hearing mechanism is working at the time of the screening. However, it does not guarantee the infant will not experience hearing loss later in life. That is why periodic screenings, conducted by your child's pediatrician, are so crucial for ongoing good health.
If the infant does not pass the screening, a second screening will need to be scheduled. Many infants need this second assessment as their movements, noise in the room, or fluid in the ear after birth could have caused the false results.
It is recommended the infant's hearing be screened again between one week and one month of age. A staff member of St. Peter's Hospital will help you pick a date to have you return and have the screening done, or can help you determine a place closer to home that can do the assessment.
Sometimes, we don't know what causes hearing loss. In some cases, hearing loss can be caused by heredity (deafness that runs in families), ear infections, or other infections like meningitis.
If it is determined the infant does have a hearing loss, help is available. Infants, toddlers with special needs and their families may get help from the New York State Department of Health's Early Intervention Program (EIP). Talk to your doctor about accessing EIP's services or if you have questions.
St. Peter's Hearing and Speech Department in Slingerlands offers comprehensive care for hearing and speech problems from diagnosis through rehabilitation. Children and adults can be tested and if appropriate, fit with hearing devices that can make it easier to hear the sounds of life. There are also speech-language pathologists on staff who can treat patients with speech disorders including fluency, articulation, or voice. For information, call 518-475-1818.