LiveSmart: When is Heartburn More Than Just Heartburn?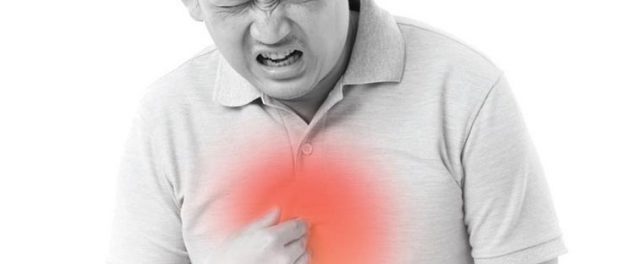 [This piece was written by Bora Gumustop, MD, and Joseph Choma, MD, Gastroenterologists/Advanced Endoscopists with St. Peter's Hospital Advanced Endoscopy & Hepatobiliary Center.]
Almost everyone experiences heartburn at least once in their life. Heartburn is described as discomfort or burning in the upper abdomen or throat, as well as difficulty swallowing or coughing.
While heartburn can be a symptom of many conditions, it is most commonly associated with acid reflux. Reflux occurs when digestive acid leaks from the stomach up into the esophagus.
Could it be GERD?
Severe or chronic heartburn may be a sign of gastroesophageal reflux disease (GERD). The American Society for Gastrointestinal Endoscopy (ASGE) reports 40 percent of Americans suffer from GERD. In addition to heartburn, GERD may also cause chronic coughing, hoarseness, sore throat, chest pain, regurgitation, belching, and asthma.
If left untreated, GERD can lead to more serious conditions, and even cancer. It's important to see your health care provider if you think GERD could be the cause of your heartburn and other chronic symptoms.
What is Barrett's Esophagus?
Nearly 30 percent of GERD sufferers will develop a condition called Barrett's esophagus. Barrett's esophagus is a condition in which the cells lining the lower esophagus have become precancerous from repeated exposure to stomach acid.
Once this is diagnosed, there is a greater risk of developing esophageal cancer – the fastest growing form of cancer in the United States. Patients with Barrett's esophagus should have routine cancer screenings.
Preventing Esophageal Cancer
A new endoscopic procedure allows doctors to remove precancerous cells caused by Barrett's esophagus. This minimally invasive procedure delivers quick (less than one second) bursts of heat directly to the damaged esophageal lining. Removal of precancerous cells is carefully controlled, avoiding injury to normal, healthy tissue.
Curing Early-Stage Esophageal Cancer
Though not widely available, the latest advancements in endoscopy enable early-stage esophageal cancer to be removed through minimally invasive techniques. Endoscopic removal of early-stage esophageal cancer is extraordinarily effective. The ASGE reports it has been proven to offer a 90 percent cure rate.
St. Peter's Hospital Advanced Endoscopy & Hepatobiliary Center is at the forefront of interventional endoscopic procedures. We offer immediate access to cutting-edge technology and expertise to provide the best possible patient outcomes.
Please join us for a FREE patient education seminar — When is Heartburn More than Just Heartburn? — to learn more about this topic on Monday, April 25, from 6 to 7:30 p.m., at the Mercy Auditorium, St. Peter's Hospital Campus, 310 S. Manning Blvd., Albany. Free parking. Registration is required; call (877) 525-2227.
For more information on GERD, Barrett's esophagus and the treatment options available, visit www.sphp.com or contact St. Peter's Hospital Advanced Endoscopy & Hepatobiliary Center at (877) 525-2227.