LiveSmart: Make Time for Fitness This Father's Day!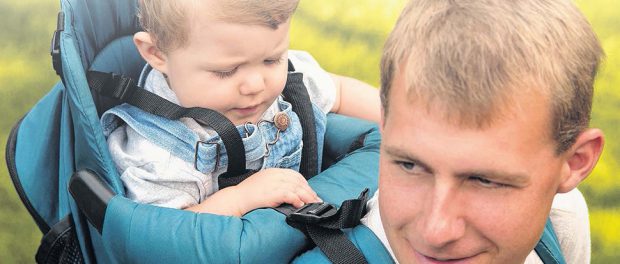 [This piece was written by Kiana Cooke, B.S., Exercise Physiology, an exercise physiologist with St. Peter's Physical Therapy & Fitness.]
Let's face it – when life gets crazy, physical activity is usually the first thing that gets pushed aside. But physical fitness is not just a gift to yourself, but also to your loved ones! For all the dads reading, make this Father's Day the one where you commit to getting back on track to a healthy and happier you.
The American Heart Association recommends that adults get at least 150 minutes per week of moderate aerobic activity or 75 minutes per week of vigorous aerobic activity (or a combination of moderate and vigorous activity). A simple way to remember this goal is thirty minutes a day, five days a week. It is also beneficial to break up the time into segments of 10 to 15 minutes throughout the day.
Do not be discouraged! This is a very achievable goal. Here are some ways to get out there and get active:
Go for a Walk with Your Kids. Your time is the greatest gift you can give your kids, and spending that time being active is the best gift of all! You can make things more exciting on your walk by exploring new neighborhoods or turning the walk into a scavenger hunt.
Walk the Mall. It is climate controlled and free!
Join a Recreational Sports Team. Being with friends and playing a game that you love is going to make you more motivated.
Turn TV Time Into Fitness Time. Walk, jog in place, or use the treadmill at the gym or in your home while you watch your favorite 30-minute show.
Park and Walk. Park your vehicle farther away from the door at work, the grocery store, the mall – wherever! It is a great opportunity to get in your walking time.
Take the Stairs. The more you take the stairs, the easier it will become. Your body will thank you.
Walk After Dinner. Skip dessert and take a stroll. Soon you'll see results that are too sweet to be true!
The best way to achieve a goal is to make it a SMART goal. When setting a new goal, remember:
Specific. Goals need to be well defined.
Measurable. Goals should have tangible evidence that you have accomplished the goal.
Action-oriented. Goals should indicate what needs to be done.
Realistic. Goals should be achievable.
Timely. Goals should have a reasonable time constraint.
When it comes to being more physically active, remember that something is always better than nothing. Make this Father's Day the one where you commit to improving your healthy habits!
St. Peter's Health Partners Patient Therapies has a variety of outpatient occupational therapists at locations throughout the Capital District, accepting all insurances and providing quality one-on-one treatment. For information, please call (518) 475-1818.