LiveSmart: Making Memories in the Kitchen with Dad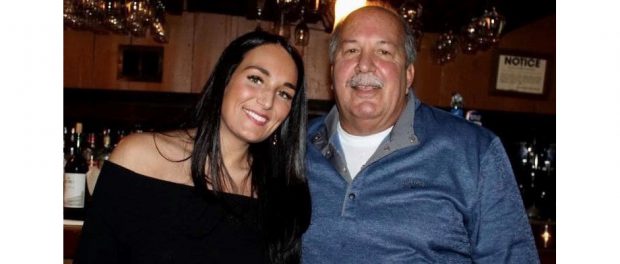 [This piece was written by Alexandra Cervini, MS, RD, CDN, Lead Dietitian for Samaritan Hospital, St. Peter's Health Partners.]
When people go into the nutrition field it's normally for a variety of reasons. In my case, I really love food, a love that started at a young age with a lot of influence from my dad.
My dad is a third-generation Italian-American – I mean, his name is Carmine … how much more Italian does it get? My dad loves to cook and entertain and most of all he loves to feed people. If you talk to any of my friends, they will tell you about all the meals they had at the Cervini residence after school and sports practices while growing up. And if you talk to my dad's coworkers at Momentive in Waterford, they'll tell you about all the delicious meals he has made for them at the plant.
As a kid, I spent every Sunday at my Grandma Jeff Cervini's for dinner (her name was Josephine, but everyone called her Jeff). My grandma was the best cook and she definitely shared her talents with my dad. Sunday dinners featured a wide variety of dishes from macaroni and meatballs, to chicken and potatoes, to her fabulous vodka sauce, garlic bread and tossed salad. We always went home with full bellies and full hearts. I've always said she made her food with love, and it showed.
Present day, my dad keeps the tradition of Sunday dinners alive. We still cook up the same recipes that have been passed down and always continue to serve up a lot of love. And now my dad isn't just dad – he's Papa to two beautiful granddaughters. It's so heartwarming to see the tradition continue into the next generation.
Family dinners are important – whether it is Father's Day or any day everyone can get together. Below is one of my favorite recipes from Grandma Jeff, one that my dad has been making for years. It's the perfect meal to serve at a large family get together. I hope you all have a great day celebrating your dads. I know I will.
Grandma Jeff's Chicken & Potatoes

Serves 10 to 14 people

Ingredients:

1 package of mini drumsticks and wings

3 chicken breasts

3 chicken thighs

1 lb. of Italian sausage

3 large white potatoes

3 large sweet potatoes

2 medium sweet white onions

1 large can of whole tomatoes

1/2 cup olive oil

Oregano

Salt

Pepper

Directions:

Preheat the oven to 500 degrees.
Cut up chicken into thirds (Leave skin on).
Wash, peel and cut potatoes into wedges.
Cut up onions.
Break up Italian sausage into pieces.
Put everything into a large mixing bowl, add olive oil over top (like you are mixing a salad).
Sprinkle salt, pepper and oregano. Mix with your hands.
Break up canned tomatoes and add to the mix. Add a little bit of the juice from the can but not too much.
Put mixture into a large cast iron pan, cook in 500 degree oven for 30 minutes, then turn the oven down to 350-375 degrees for another 30-40 minutes.
Take chicken out and set aside (cover tightly to keep warm). Cook potatoes longer – you want them crispy and browned. Place them under the broiler to brown more, if needed.
Combine chicken and potatoes and serve.