LiveSmart: Pinwheels for Prevention – Raising Awareness for Victims of Child Abuse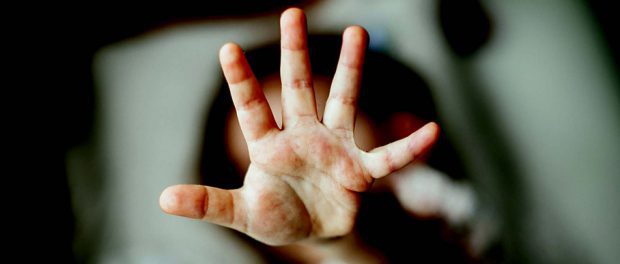 [This story was written by Kelly VanAppledorn, Outreach Coordinator, and Carissa Marino, Student Intern, with St. Peter's Crime Victim Services.]
The month of April is National Child Abuse Awareness and Prevention month; a time to highlight a pervasive public health concern and discuss ways that we can prevent more harm from occurring. You may see blue pinwheels used as a symbol of support for victims and survivors of child abuse. The pinwheels represent the lighthearted and whimsical essence that all children have within them which deserves to be protected and fostered throughout their growing years.
According to the Centers for Disease Control and Prevention, 1 in 7 children in the U.S. are reported to have experienced some form of child abuse or neglect within the past year. This public health issue is not an easy topic to discuss, but we know teaching children about personal safety beginning at a young age is an important step in prevention.
Our Prevention Education and Community Engagement (PEACE) team here at St. Peter's Crime Victims Services (SPCVS) spends most of the academic school year providing a comprehensive personal safety program, Child Safety Matters, to elementary and middle school-aged students (K-8). This program engages all of the students, regardless of grade, in learning five safety rules and discusses how to use these rules when someone is doing something to, or around them, that is not safe.
The rules are rooted in being self-aware, trusting instinct, and seeking support in safe adults. When students see safe adults, like prevention educators and teachers, being open and discussing difficult topics, it shows them that it is okay to seek help should someone cause them harm.
Children exposed to abuse, trauma, and other adverse childhood experiences (ACEs) are at a higher risk for a number of long-term impacts including anxiety, depression, PTSD, developmental barriers, and chronic health conditions. When supportive intervention occurs early on, children impacted by ACEs have the opportunity to live a successful and healthy life. All survivors are resilient and, with the right support, have the ability to cope and overcome challenges.
At SPCVS, we offer emotional support as well as in-person medical and legal advocacy, with the comfort and safety of our clients at the center of all that we do. All survivors can seek short-term support through our 24-hour hotline at 518-271-3257. For survivors 12 years of age or older located in the Capital Region, SPCVS offers long-term support through person-centered advocacy, counseling, and trauma therapy. To request an intake, contact 518-271-3410. Outside of our area, The Rape, Abuse & Incest National Network (RAINN) operates the National Sexual Assault Hotline which is accessible 24/7 and offers confidential support (1-800-656-4673).
Visit us at sphp.com/crimevictimservices for a list of community outreach events hosted by SPCVS throughout April. Wishing everyone a hopeful and healing Child Abuse Awareness and Prevention Month.