St. Peter's Hospital Voted Best Hospital for 2023 by Times Union Readers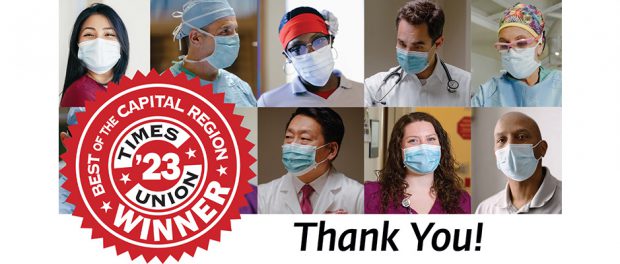 St. Peter's Hospital has been voted Best Hospital in the Times Union's "Best of the Capital Region 2023" poll. In addition, Times Union readers also chose Samaritan Hospital in Troy as among the region's top five best hospitals, and Eddy Village Green as one of the best Senior Living facilities!
The poll is the latest recognition for St. Peter's Hospital, which has received many awards and accolades over the years for its high-quality and compassionate care. St. Peter's Hospital was recognized last year with U.S. News & World Report's number one ranking in the Capital Region as a Best Hospital for 2021-22, an accolade it received for the ninth year in a row.
The Times Union has held the annual poll for 26 years. The first round of the poll in January solicited nominations for "Best of" in more than 100 categories, from restaurants and stores to parks and hospitals. From these nominations, the Times Union identified the top five finalists in each category. Readers were then polled and asked to vote for their favorite finalist from February through early March.
St. Peter's Hospital and other winners are featured in a special magazine publication of the Times Union, "Best of the Capital Region 2023″ that published on Thursday, April 20, 2023.
To schedule an appointment online, please visit www.sphp.com/booknow. To find a physician, visit www.sphp.com/find-a-doctor.