LiveSmart: Remember Food Safety to Keep Your Cookout Healthy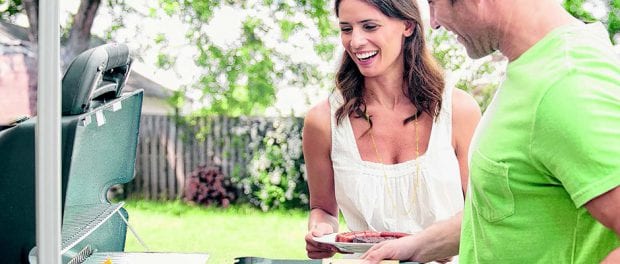 [This piece was written by Michelle Eckler, MS, RDN, CDN, a clinical dietitian for Samaritan Hospital, St. Peter's Health Partners.]
Plenty of sun and warmer temperatures in the summer months brings not only picnics and cookouts, but also a higher risk of foodborne illnesses. With the July 4th holiday and several weeks of hot temperatures ahead, now is a great time to review some basic food safety to get you through summer unscathed.
Keep Cold Foods Cold
Cold foods should be kept at a temperature of 40 degrees Fahrenheit (F) or below. Pack cold foods in coolers and use cold packs or ice to keep it cold. Pack beverages in a separate cooler than perishables, so you're not constantly opening the cooler containing food items.
Make sure to pack raw foods (e.g., uncooked meat and seafood) in a separate cooler than prepared foods (e.g., prepared salads, fruits and veggies).
Grilling Tips
Marinate meat and poultry in the refrigerator (not on the counter!). Do not re-use marinade for sauce that was used to marinate raw meat and poultry. Instead, set aside some before marinating.
Thaw meats either in the fridge or under cold running water. Use separate utensils for placing raw meat on the grill and for removing cooked food from the grill.
The Danger Zone
Beware the temperature range between 40 F and 140 F, where bacteria rapidly multiply. Food should only remain in this danger zone for two hours or less (one hour or less if temperatures outside are 90 F or higher). Throw out any foods that have been left out for longer than two hours.
Wash Hands
Always wash your hands or use hand sanitizer (if hands are not visibly dirty) after handling raw meats and before preparing food. Keep sanitizer wipes handy for clean-up.
Cook to Proper Temperatures
Beef, pork, and lamb need to be cooked to an internal temperature of 145 F. Poultry needs to be cooked to 165 F (e.g., whole chicken, ground chicken and ground turkey). Ground beef and pork (including hamburgers) need to reach a temperature of 160 F.
When in Doubt, Throw it Out
Never taste foods you think might be unsafe. Most food poisoning bacteria are tasteless, colorless, and odorless. When in doubt, throw it out!
If you're looking for a healthier side dish to serve at your next picnic or cookout, give the quinoa black bean salad recipe below a try! Loaded with protein, fiber, and lots of flavor, it is sure to be a hit. And for a quick, easy, and healthy snack on the go (perfect for hiking, soccer games, etc.), try these no-bake energy bites. Packed with whole grains (oats) and peanut butter for some protein, these are sure to be a hit with all age groups.
Southwestern-style Quinoa Salad

(Courtesy of Tasty App)

 Ingredients:

2 tablespoons vegetable oil

3 cloves garlic, minced

1 jalapeño, minced

15 oz. can black beans

15 oz. can of corn

3 Roma tomatoes, diced

1 cup quinoa, rinsed

2 cups vegetable stock (480 mL)

1 tablespoon chili powder

2 teaspoons cumin

1 teaspoon salt

1 teaspoon pepper

1 avocado, cubed

1 lime, juiced

Fresh cilantro, to garnish

Directions:

Heat the oil in a large pan over medium heat. Add the garlic and jalapeño and cook for about two minutes, until softened.

Add the black beans, corn, tomatoes, quinoa, vegetable stock, chili powder, cumin, salt, and pepper. Stir, then cover and cook for 15-20 minutes, until the liquid is absorbed and the quinoa is tender.

Transfer the salad to a serving bowl and top with the avocado, lime juice, and cilantro. Enjoy!
No-Bake Energy Bites

(Courtesy of https://www.gimmesomeoven.com/no-bake-energy-bites/)

Ingredients:

1 cup (dry) oatmeal (old-fashioned oats are best)

2/3 cup toasted coconut flakes

1/2 cup peanut butter

1/2 cup ground flax seeds

1/2 cup semisweet chocolate chips

1/3 cup honey or agave nectar

1 teaspoon vanilla extract

1 tablespoon chia seeds (optional)

Directions:

Stir all ingredients together in a medium bowl until thoroughly mixed. Cover and let chill in the refrigerator for half an hour.

Once chilled, roll into balls of whatever size you would like. Store in an airtight container and keep refrigerated for up to one week.