LiveSmart: Simple Prep, Big Flavors – Eating Well with Diabetes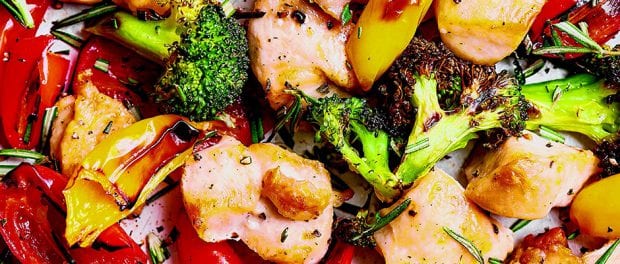 [This article was written by Alexandra Cervini, MS, RD, CDN, Lead Dietitian for Samaritan Hospital, St. Peter's Health Partners.]
When you and your family are on the go, making time to cook a delicious and nutritious meal can be tough. Cooking when you have to monitor and control carbohydrates because of diabetes can seem even more daunting.
Fortunately, the internet has recipes for lots of great, healthy meals, right at your fingertips! Many don't require a lot of preparation time, while still providing a lot of flavor. One of my favorites is the one below for roasted garlic and herb chicken and veggies from www.gimmedelicious.com. Pair it with a modest portion of a whole grain, like brown rice or quinoa, and you've got a complete, carbohydrate-conscious meal.
Sheet Pan Roasted Garlic & Herb Chicken and Veggies

Prep Time: 10 minutes; Cook Time: 20 minutes, Total Time: 30 minutes
Servings 6

Ingredients

1 1/2 lbs boneless skinless chicken breasts cut into 1-inch pieces
2 cups broccoli florets
1 large zucchini cut into 1 inch pieces
1 medium onion cut into 1 inch pieces
1 bell pepper, any color, cut into 1 inch pieces
1 cup grape tomatoes cut into 1 inch pieces

For the Garlic & Herb Marinade

1/4 cup olive oil
4 cloves garlic crushed or finely chopped
2 tablespoons dried parsley or chive or basil
2 tablespoons dried cilantro
1 teaspoon chili pepper flakes
Salt and freshly ground black pepper
1 teaspoon ginger (optional)
Juice of 1/2 lime

Instructions

Preheat oven to 450F.
In a medium bowl, whisk the garlic, herbs, salt and pepper, and lime juice.
Place the chicken and veggies on a sheet pan and drizzle with the garlic and herb mixture. Combine with hands until all the chicken and veggies are coated.
Bake for 20-22 minutes or until the chicken and veggies are cooked through.
Serve immediately with rice or quinoa or cool to room temperature and divide into six meal prep containers for a quick reheat later.