LiveSmart: SPHP, Excelsior College and Times Union offer "Salute to Nurses"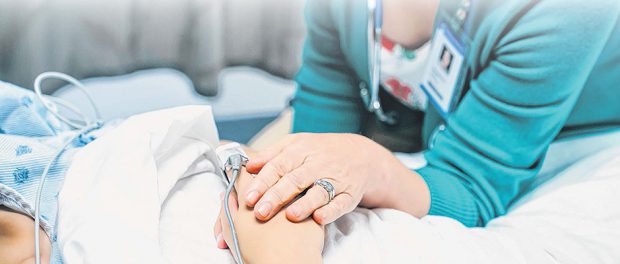 On Friday, May 10, 2019, St. Peter's Health Partners, Excelsior College and the Times Union honored Capital Region nurses as being shining examples of the profession at the 2019 Salute to Nurses Luncheon.
Six St. Peter's Health Partners nurses were honored for nursing excellence at the event:
Two SPHP nurses were named "2019 Nurse of the Year," an honor reserved for just 10 Capital Region nurses:
Marnie Williams, RN, CCRN | Cardiovascular Intensive Care Unit, St. Peter's Hospital
Amy Mundweiler, MS, RNC, CNS, RAC-CT | Education Specialist, Eddy Village Green
Additionally, four SPHP nurses were honored as 2019 Nurse of the Year Finalists, a distinction given to only 16 nurses:
Marcel Cerny, MA, RN, CEN | Patient Safety & Quality Improvement Specialist, Acute Care, St. Peter's Health Partners
Denise Delollo, MSN, RN | Patient Logistics, St. Peter's Hospital
Usman Khan, LPN | Brain Injury Unit, Sunnyview Rehabilitation Hospital
Judy Quinn, BSN, RN, NE-BC | Manager, Emergency Department, Samaritan Hospital
"Nurse of the Year" recipients and finalists were selected from more than 600 nominations submitted to the Times Union. Nurses were nominated by their peers, colleagues, supervisors, patients, and the families of patients.
Other individuals named as "Nurse of the Year" included: Ann Andree, Saratoga Hospital; Paulette Furdyna, Albany Stratton VA; Julie Prezioso, Capital District Psychiatric Center; Nadia Giumarra, Glens Falls Hospital; Kathryn Dzikas, Ellis Hospital; Brittany Collins, Catskill Academy Questar III; Robert Anderson, Albany Med; and Fay Mead, Cobleskill Regional Hospital.
Other individuals named as "Nurse of the Year" finalists included: Analyn Nocus, Albany Med; Steve Jones, Albany Medical College; Joyce Kranitz, Bellevue Woman's Center; Marie Saracco, Cardiology Associates of Schenectady; Tammy Ostrowski, Landmark Health; Jo Ann Pierce, Latham Internal Medicine; Diane Hammond, NYS OCFS; Lindsey Brenenstool, OEHC – Occuptional and Environmental Health Center of Eastern NY; Stacey Bovee, Saratoga Hospital – Saratoga Community Health Center; Manuel Santiago, St. Mary's Healthcare Amsterdam; Dr. Madeline Cafiero, The Sage Colleges; and Brenda Robinson, Veteran Health Administration BNC.