Samaritan Hospital Medical/Oncology Unit Honored with a DAISY Award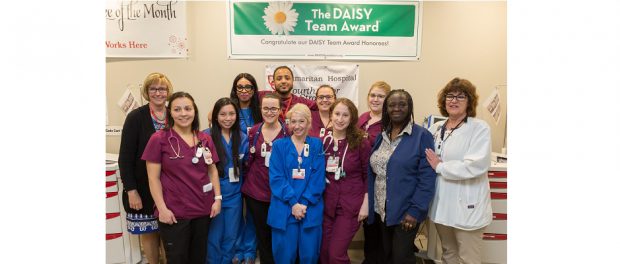 Samaritan Hospital is proud to recognize not just one, but nine of its nurses for their exceptional care.
On May 9, the hospital presented nurses from the fourth floor medical/oncology unit with the DAISY Team Award.
A former patient, Amanda, nominated the nurses for going above and beyond to help her during her recent hospital stay.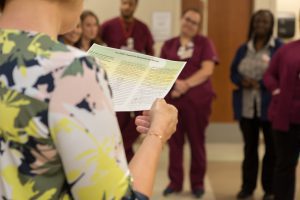 In a letter, Amanda singled out each nurse on the floor, thanking them for "calming her tears and fears," "making her feel like she wasn't a bother," and "filling her heart with hope." She wrote: "I can go on with each and every one, and a moment I choose to call a gift they shared with me. I just pray they all know just how important and precious they are!"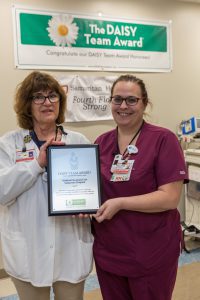 DAISY is an acronym for Diseases Attacking the Immune System. The family of Patrick Barnes, who died at age 33 of complications of Idiopathic Thrombocytopenic Purpura (ITP), created the DAISY Award to honor his memory and recognize the healing work of the nurses who had cared for him and continue to care for patients everywhere.
There are more than 2,000 health care facilities in all 50 states and 14 other countries, committed to honoring nurses with The DAISY Award.
Click here to view photos from the event.