LiveSmart: St. Peter's Goes Purple October 19 to Raise Awareness of Domestic Violence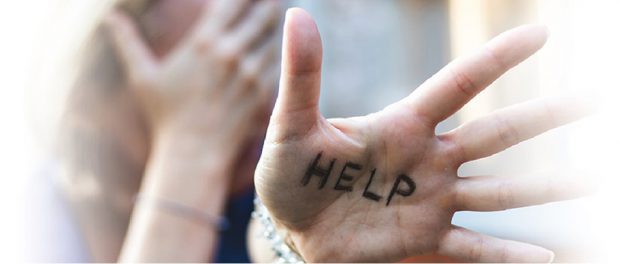 [Written by Elizabeth Karam, NYSCRCC, Outreach Coordinator, St. Peter's Crime Victim Services.]
October is Domestic Violence Awareness Month, a nationally recognized event observed annually since 1987. Each year, local and national organizations encourage people to come together and "Go Purple" on the third Thursday in October. Wearing purple this October 19 is a simple act everyone can do to highlight the very complex realities of domestic violence.
Domestic violence is a pattern of behavior in any relationship that is used to gain power and control over a partner – physically, spiritually, emotionally, or financially. It is an issue often experienced, yet seldom talked about.
According to the One Love Foundation, nearly 1 in 3 women and men, and nearly 1 in 2 trans or non-binary people will find themselves in an abusive relationship. In the last year alone, 244 survivors of domestic violence were seen in St. Peter's Health Partners' three emergency departments.
The reality is domestic violence impacts people across the Capital Region, going well beyond the month of October. But, these issues don't have to be dealt with alone or in secrecy.
St. Peter's Crime Victim Services (SPCVS) provides free and confidential support for survivors of domestic violence and their loved ones. Individuals are offered a continuum of services depending on the needs they identify for themselves, including medical treatment and evidence collection, legal advocacy, counseling and therapy services, support groups, and assistance filing for financial compensation.
Survivors can seek services at any stage, regardless of if they've separated from their partner or if they've filed a legal report. We are ready to support survivors, no matter where they are in their journey.
For more information about Crime Victim Services, please call 518-271-3410 or visit our website at sphp.com/crimevictimservices. If you or someone you know has been the victim/survivor of a crime and needs to speak with someone outside of business hours, you can contact our 24-hour confidential hotline at 518-271-3257.